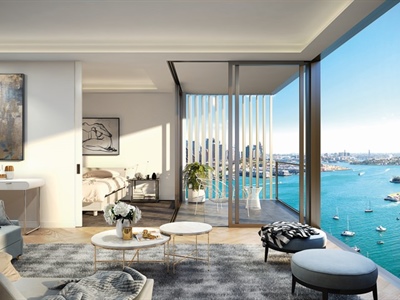 Booming Sydney and Melbourne markets pushed the national auction clearance rate to its third-highest rate ever over the weekend, showing the risks to the Reserve Bank of further cutting rates on Tuesday.
The combined capital city rate of 79 per cent – apart from the last weekend's figure of 82.3 per cent, based on a subdued Anzac Day market – was the highest since the 79.7 per cent posted in September 2009, CoreLogic RP Data figures show.
In Sydney, where investors, offshore buyers and owner-occupiers are all battling for off-the-plan property, the auction clearance rate of 89.7 per cent was up from 71.4 per cent a year ago.
Melbourne's clearance rate jumped to 81.3 per cent from its year-ago figure 61.9 per cent on a weekend in which an unrenovated brick villa in Albert Park sold for $4.21 million, $1.71 million above the reserve price.
That worked out to a per-square metre price for $14,000 for the nineteenth-century St Vincent Place house with peeling paint, old lino floors and mismatched carpet. The Victorian capital had 1110 auctions scheduled and the clearance rate was on the reported results of 963 of them.
Sydney's clearance rate of 87.3 per cent, based on the results of 679 reported auctions, was up on the 71.4 per cent reported a year earlier. A three-bedroom family home in Eastwood on the north shore sold for $1.52 million at auction, $200,000 over the reserve price.
IMF attention caught
The central bank is likely to cut the benchmark cash rate to a record-low 2 per cent on Tuesday, a Bloomberg survey of 28 economists showed. Policymakers are keen to stimulate an economy that is struggling to fire up in areas beyond housing and construction, but lower borrowing costs are likely to primarily boost investor activity in a sector that is so buoyant it is drawing the attention of international agencies such as the International Monetary Fund.
The property industry, meanwhile, slammed both the federal and Victorian state governments for plans announced over the weekend to increase the costs for foreign citizens buying Australian property. Treasurer Joe Hockey, on Saturday, said the government would also clamp down on unlawful property purchases by non-citizens.
"We welcome the government's clamp down on illegal activity, which is long overdue," Property Council of Australia chief executive Ken Morrison said. "However, the government is undermining its own aim of making homes more affordable by simultaneously penalising legitimate foreign investment in new housing."
Locals are certainly doing their bit to stoke demand. In Sydney, investor Lindsay Carrucan on Saturday paid $1.825 million for a two-bedroom, two-bathroom apartment in 88 Alfred Street, a Cbus Property redevelopment in Milsons Point on the lower north shore of the 165-room Vibe Hotel into 123 apartments.
Mr Carrucan, who owns a number of properties already, said he bought the Milsons Point apartment to diversify his portfolio.
"I'm not sure what I'm going to do with it – but I have an 18-year-old son, so I might put him here," he said.
Median values up
Apartments in the redevelopment being marketed by Colliers International range from one- to three-bedroom units and range in price from $715,000 to above $6 million.
Median dwelling values are up 7.6 per cent over the past 12 months, based on the combined performance of the five largest mainland capitals, but that figure masks the great variation between markets.
While Sydney prices are up 14 per cent, the figure in Melbourne is less than half of that, at 6.5 per cent. Brisbane is up 2 per cent, Adelaide 1 per cent and Perth values have dipped 0.5 per cent from their level a year ago. In Perth, homes are down 2.3 per cent over the past month.
Clearance rates rose last week in most of the capital cities that have a sufficient number of auctions to warrant comparison.
In Perth, for example, sales are overwhelmingly by private treaty and auction numbers are low in comparison to cities further east.
In Adelaide the clearance rate picked up to 72.5 per cent, based on the 91 reported results of the city's 158 scheduled auctions. The same week last year returned a rate of 62.7 per cent.