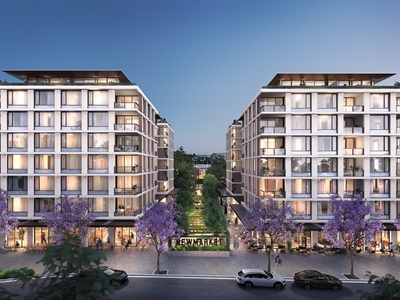 Superannuation-backed construction and development company Cbus Property will open for sale the first stage of its $1 billion residential development at the historic Newmarket horse stables in Sydney's Randwick.
In Sydney's bulging apartment market Cbus will be appealing to VIP guests at its opening night on Wednesday to buy into apartments at rates per square metre of at least $19,300 for three-bedroom, $16,400 for two-bedroom and $15,300 for one-bedroom apartments.
Stage 1, known as Newmarket Residences, includes 128 apartments across two buildings eight storeys in height, including 54 one-bedroom apartments between 51sq m and 70sq m in size, 62 two-bedroom apartments and 12 three-bedroom apartments of up to 137sq m. The overall Newmarket Randwick precinct will include 642 apartments and terraces, to be developed in three stages.
Cbus Property chief executive Adrian Pozzo said he was confident in the Sydney apartment market and that the new development would be sympathetic towards the area's history which includes the home of former thoroughbred champions such as Bernborough and Black Caviar.

"We know how important this site is to the local community and thoroughbred racing fraternity so we were determined to design something special that is worthy of a site with such a strong history," Mr Pozzo said.

"We needed to ensure a high-calibre design and master plan that will pay tribute to the past while providing a unique residential village and retail precinct."
Designed by Bates Smart, the Newmarket Residences takes inspiration from the heritage Newmarket House and the grand old stable buildings on the site.
Other stages of the overall development include designs by Neeson Murcutt Architects, Smart Design Studio and SJB.
Colliers International managing director of residential, Peter Chittenden, said the Newmarket Residences was positioned on a unique site a short distance to the Prince of Wales Hospital, the University of NSW and the new light rail.

"We expect the Newmarket Residences to be popular with a range of owner-occupiers, particularly young professionals looking for the eastern suburbs lifestyle but also people who have lived in Randwick for many years who are looking for a more low-maintenance lifestyle."