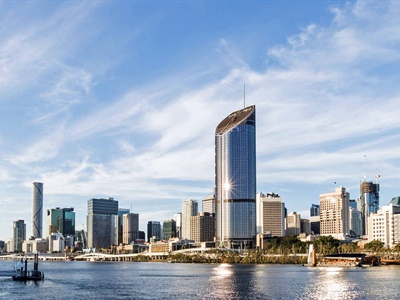 THE Queensland Investment Corporation's real estate arm is expected to purchase half of the state government's $2 billion property portfolio through a newly launched fund, in a deal that could be agreed upon as early as next week, according to industry sources.
It comes as three consortiums are understood to have been shortlisted to embark on the Queensland government's 1 William Street office development, including Leighton Holdings partnering with the GPT Group, Brookfield with Cbus Property and Lend Lease with another party. The Australian reported in August that QIC's real estate division was in talks to buy a portfolio of state government-owned office buildings in Brisbane.
The Queensland government has 15 properties worth about $2bn that it had been considering selling. Among the most valuable buildings in the portfolio are the adjoining properties at 111 George Street, which has 31 levels, and 33 Charlotte Street. Others include 80 George Street, Mineral House at 41 George Street and the Neville Bonner Building at 75 William Street.
The negotiations are being handled by Jones Lang LaSalle, which did not comment this week.
While one source said QIC was in due diligence on the portfolio and a sale could be announced next week, another suggested a sale would likely be finalised by January.
Yesterday the state government and QIC Real Estate declined to comment.
It is understood the properties the government is negotiating to sell are mostly lower-quality offices requiring millions of dollars worth of improvements at a time when Queensland Premier Campbell Newman is curbing spending and cutting jobs.
One source speculated that a sale of the properties by the government to the $64.7bn superannuation fund manager would prevent accusations that the government was privatising its assets.
One of the areas that was being worked through was the lease terms the government would take over the buildings -at one stage it was believed the government had talked to QIC about lease terms lasting more than a decade, and possibly 15 years.
Setting up a trust to hold the assets, with the state government having units in the trust was an option that had previously been mooted.
QIC Global Real Estate oversees $8.6bn worth of property investments, including a large portfolio of shopping centres and a half share of the MLC Centre office tower in Sydney.
QIC had previously flagged its intentions to embark on more than $740 million worth of local redevelopment and expansion projects on its shopping centres this year.
It fully owns, or holds stakes in, Watergarden and Eastland shopping centres in Melbourne, Robina Town Centre on the Gold Coast, as well as Sydney centres Westpoint Blacktown and Castle Towers and the Canberra Centre in the ACT.
QIC this year also purchased the Noosa Civic shopping centre on the Sunshine Coast for a price reported to be $200m.
It is understood QIC last month looked closely at the $266m Westfield Innaloo shopping centre in Perth, but a deal to buy it did not eventuate.
The Queensland government's proposed 1 William Street development involved a 35-level office tower comprising 60,000sq m on the Brisbane River.
A retail component in its lower floors and possibly entertainment facilities are expected to be included.
The government is likely to appoint a developer and builder by the end of the year.
Among groups that had initially bid for the project were Lend Lease, Westfield, Mirvac, Echo Entertainment, Leighton Properties, Thiess, Investa Property Group, Hansen Yuncken, Cbus Property, Watpac, Hutchison Builders and Neilson Properties.