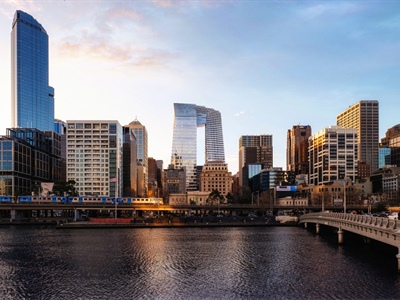 Approval granted after developer agrees to reduce height to 41 storeys. A $1.3 billion tower proposed for Collins Street in Melbourne's CBD dubbed the "pantscraper" has been given the go-ahead after the developer agreed to reduce its height by six floors.
Planning Minister Richard Wynne said a compromise of 41 storeys had been reached after he previously knocking back the tower because it would have cast a shadow across to the southern bank of the Yarra River.
The tower at 447 Collins Street will include offices, apartments, a hotel and a public park.
Developer CBUS Property now has to submit amended plans for a planning permit to be issued.
Mr Wynne said the building — dubbed the "pantscraper" because of its twin tower design — would become a city landmark.
"The previous design of this building completely overshadowed not only the north bank of the Yarra but indeed the south bank of the Yarra as well," he said.
"We're actually also going to get a park right here in the centre of the city with the half closure of Market Street, which of course abuts this site," he said.
"So it's really a significant win for the city, it's a very significant win in terms of getting a development that protects the amenity of the Yarra River."
He said the park would be owned and maintained by the city council, but its final size would depend on how much of Market Street was closed off.
He denied the building's approval had anything to do with former Labor premier Steve Bracks being a CBUS board member.
"I have not spoken to Steve Bracks since the funeral of Joan Kirner in June last year," he said.
"CBUS are a major developer in the city … This is a high-quality development for the city and they have every right to get on with their business."
Final demolition works at the site are expected to begin by September.