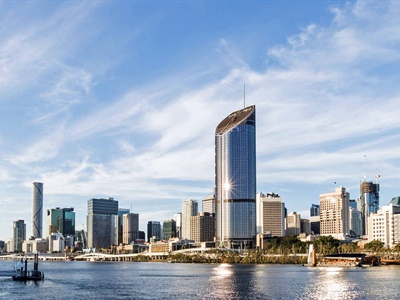 It's first things first for the six developers eyeing Brisbane's waterfront bonanza, writes Matthew Cranston.
The Newman government's rush to build Queensland's biggest office tower as a separate stage in Brisbane's $1 billion waterfront development has create controversy among developers and agencies.
The six shortlisted developers, Cbus, Lend Lease, Westfield Leighton Properties, Brookfield and Grocon would have liked to pitch for the entire project in a similar fashion to Sydney's Barangaroo. But Premier Campbell Newman and his deputy Jeff Seeney see it as a political imperative to start the tower before the year is out.
That has left developers focused on the tower, leaving the other stages as an afterthought.
The government's appointment of Jones Lang LaSalle to handle the developers expressions of interest also raised questions in state parliament yesterday.
The Premier dismissed suggestions that either he or other ministers played a role in the appointment of JLL and that it was solely up to Projects Queensland.
However, other major agencies such as CBRE have expressed concern they were not asked to provide the service and have found it difficult to participate in the William Street project.
Rumours also circulated yesterday that Westfield could be dropping out of the office tower development.
Of the six developers shortlisted, Westfield's proposal was expected to be the most intriguing. There is speculation Westfield, an unlikely office developer, could try something similar to its Sydney City development, which included an office tower and a retail centre. Westfield has no retail in Brisbane.
Alternatively, it might try to include a casino similar to its Stratford flagship. The casino might be operated by Brisbane's sole licence holder Echo Entertainment, which has been looking to move out of the heritage-listed Treasury building which in turn could be used by Westfield as a high-end shopping centre.
Whatever Westfield decides, a 75,000 square metre office tower must be central to its proposal.
The government has left no doubt as to the importance placed on the office tower, which is to be built on state-owned land at 1 William Street. "William Street is a catalyst for the broader renewal," Mr Seeney said. "Once traction has been achieved on this site, we will then turn our attention to the remaining precinct."
One source intricately associated with the tendering process said this week: "This is a bit like a Rubik's cube; you have to get this one important move in order to get the whole thing moving."
ML Design chairman Bevan Lynch, who is heading the government's advisory panel, said he didn't expect the tower proposal to be linked to the later stages but "that doesn't rule out a left-field idea".
He said the actual tower site's potential for connectivity was "quite limited" by the fact that it is enclosed by two highway on- and off-ramps.
Some of the shortlisted developers have spoken about the possibility of dividing the William Street site into two with one tower for the government offices and another to be used as a hotel.
The array of proposals to be brought to the government later this month are expected to be highly competitive in a depressed construction environment.
It could be argued that the proposed tower is the most hotly contested development in play in Australia, with the state government committed to fully occupying the building.
Already developers are talking about providing a potential $70 million fit-out, which just happens to be a rough estimate of the value of the government's William Street site.