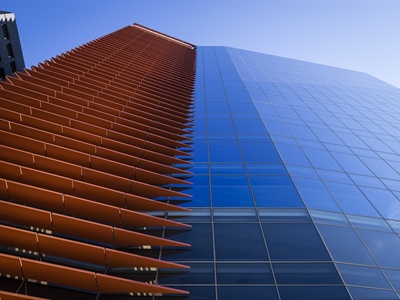 Commercial & General today announced an agreement has been made with Cbus Property to acquire its interests in the 50 Flinders Street Office tower project in Adelaide as part of the development of the precinct.
This follows quickly on Commercial & General's successful early completion of the SA Police Headquarters for the South Australian Government and the commencement of its funds management business unit.
The new People's Choice HQ will be developed at 50 Flinders Street on the corner of Gawler Place and Flinders Street. This new 14 level, 21,450 square metre building will be anchored by People's Choice, and incorporate 78 car parking spaces.
"We are delighted to be able to facilitate Cbus Property first entry into the South Australian CBD market through this arrangement and develop a quality facility with People's Choice as the anchor tenant," said Commercial & General Managing Director Jamieson McClurg.
"Credit unions serve their members with competitive products and exceptional service, and we hope to be able to achieve and exude these high standards with this CBD building" Mr McClurg said
People's Choice has pre-committed to some 50% of the building, together with a further pre-commitment from Santos, who already occupy the neighbouring building. In a positive sign for the Adelaide CBD commercial market, Commercial & General achieved satisfactory pre-commitment of the project prior to confidential commercial arrangements with Cbus Property.
"We're excited about creating a striking new head office and branch featuring clever design that reflects the workflow and culture of our credit union," said People's Choice Managing Director Peter Evers.
"As a significant Australian business proudly headquartered in Adelaide, our new Flinders Street premises will help us remain a strong and successful credit union – one that people want to join, and one where people want to stay – both as members and staff," said Mr Evers.
Mr McClurg said – "In addition to People's Choice and Santos, we are also in discussion with other prospective tenants for the remaining space". Availability of quality PCA A Grade – 5 Star Green Star rated space is in short supply, and in addition to People's Choice's and Santos' occupancy, we have a building that will be attractive to smaller 3,000 – 5,000sqm size tenants that have difficulty accessing buildings of this quality and position from an early pre-commitment phase".
"The link through Gawler place to Rundle Mall will also be a significant attractor. Tenants will have a clear Flinders or Gawler place identity in a core CBD location."
The building will be designed to be functional, and represent the corporate responsibility suited to the organisation. "This building will be an elegant corner statement. The architecture will have a professional feel, yet be warm and inviting and unlike your typical bank, a lot like People's Choice. Office floorplates in excess of 1,750sqm are expected."
"Like our other commercial CBD buildings, this project will be designed to achieve a 5 Star Green Star Rating. We desire to include elements and materials that will provide a timeless quality". Mr McClurg said.
Adrian Pozzo, Chief Executive Officer of Cbus Property said: "50 Flinders Street offers a unique investment opportunity for Cbus Property to develop and own a premium landmark office building in the Adelaide CBD. This investment, our first in Adelaide, reinforces our commitment to the Australian office market. It is estimated the development will provide in excess of 750 jobs over the period, many of whom will be members of the Cbus Superannuation Fund."
Adrian Pozzo also stated that "Commercial & General has provided us with a unique development opportunity in the Adelaide CBD. We are delighted to be involved in this very exciting project with Mr McClurg and his team."
Relocation of People's Choice is underway with an anticipated commencement on site in August 2013.