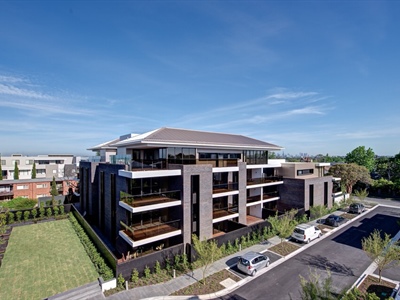 IF you're having trouble selling your house, spare a thought for homeowners in Ouyen, where the average selling time is a staggering 262 days.
Figures from RP Data show the town is the hardest place in Australia to sell a house in the current market. Other suburbs where houses are not moving quickly include Paradise Beach, (215 days), Briagolong (213 days) and Donald (201 days).
In Melbourne, the hardest suburb to sell a house in is Plenty, where the average time on the market is 165 days. Other suburbs struggling include Flinders (152 days), Ferny Creek and Warneet (both 130 days). At the other end of the scale, houses in Elsternwick are being snapped up in only 19 days, while other in-demand suburbs are Briar Hill (21 days), Seville (29 days), Coldstream and Abbotsford (30 days).
Super fund driving $100m development
INDUSTRY superannuation fund Cbus is the driving force behind a new high-end development in Brighton of more than 100 apartments, townhouses and houses.
The Warleigh in Brighton is a $100m collaboration between Cbus Property, SJB Architects and SJB Interiors.
Cbus Property development manager Andrew Potter said the 9000sqm site at 30-42 Warleigh Grove would be developed in three stages, and be integrated into the existing streetscape.
SJB Architects director Charles Justin said: "We have captured the stately home character that you see throughout Brighton and adapted it to this development. The architecture has very strong geometric forms and contrasting finishes to the facades such as metallic bronze, copper cladding and charcoal render."
The 62 one, two and three-bedroom Domaine apartments start at $490,000, while the 39 two and three-bedroom Luxe homes are from $970,000 to $1.7m. Rounding out the offering is The Residences, seven three-bedroom townhouses starting at $1.9m. Details: thewarleighbrighton.com.au
Homeowners seek better deal as rates drop
FALLING interest rates are prompting more homeowners to look for a better mortgage deal, according to broker Loan Market.
Chief operating officer Dean Rushton said refinancing inquiries were up 16 per cent in the past 12 months, while rate cuts in November and December had helped stimulate refinancing.
"With expectations of more rate cuts by the Reserve Bank in the first half of 2012, we should see sustained growth in the refinance market which, along with first-home buyers, will be the strongest sectors this year," Mr Rushton said.
"The key point for the refinance market has always been rates – and the overwhelming sentiment in the market place is that they'll trend downwards in 2012."