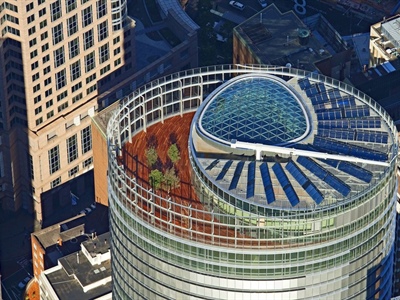 It was one of Australia's most hotly anticipated buildings, already heralded for its innovation in sustainable building. The first commercial building in Sydney to achieve a 6 Star Green Star-Office Design v2 rating, 1 Bligh Street was developed by DEXUS Property Group, DEXUS Wholesale Property Fund and Cbus Property.
Ray Brown, managing director of Architectus, the architecture firm on the project, says the building is particularly special because it's a fully integrated design.
"We believe we managed to maximise value for all stakeholders in the project, including the owners, the building users and the public," he says. In particular, he points to its open ground plan as contributing extra public space to the city and the atrium, which creates a vertical campus. Brown acknowledges the challenges in designing 1 Bligh Street as a green building with a primary focus on aspects that improved comfort and safety. "The challenge is to get the right mix of passive and active systems and to get the basics right in terms of orientation, light, shading, ventilation etc, which all contribute to reducing energy consumption," he says.
It's also a high-rise building of 'firsts' with its double-skin naturally blackwater recycling treatment plant, as well as having the first commercial licence for sewer mining in NSW.
"The blackwater treatment plant produces 100,000 litres of clean water every day for use in the cooling towers and for toilet flushing," notes Brown. "We also use solar thermal tubes on the roof to deal with peak-load cooling, which was also a first."
The glass facade has a double-glazed inner skin of high-performance glass, with its outer skin being clear glass. This is separated by an accessible naturally ventilated cavity that contains an automated blind. This means the need for artificial lighting is greatly reduced, which means energy consumption is also lowered.
65,000 L capacity of rainwater harvest tank that recycles rainwater for irrigation.
The building is also equipped with water-efficient appliances-3 Star WELS-rated showerheads, 5 Star-rated handwash basin taps and 4 Star-rated toilets.