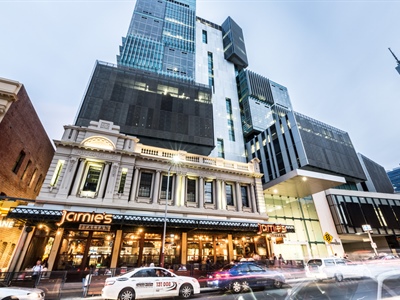 A Proposal that aims to bring laneway culture to 140 in the CBD has been submitted to the City of Perth.
140 general manager Andrew Taylor said the development application included commissioned artworks from local artists.
It also included alterations to elements of the building to better connect the spaces, increase the light and provide structure for laneways and public spaces.
140 is being developed and managed by Cbus Property.
Mr Taylor said the proposal would connect Murray Street Mall to William and Wellington streets.
"Together with Cbus Property, our challenge is to create a more accessible and inviting retail and dining destination at 140," he said.
"Redevelopment will attract more people to 140 and the Perth CBD to experience the cosmopolitan laneway culture.
"The existing heritage buildings will provide the perfect backdrop for the engaging artworks, making 140 the place to visit in Perth."
He said dependent on council approval, construction would be expected to be completed by the end of next year.
A City of Perth spokesman said the development application was received by the City on September 26.
"It is being assessed for presentation to the planning committee. Subject to approval there, it may go to council by the end of October," he said.