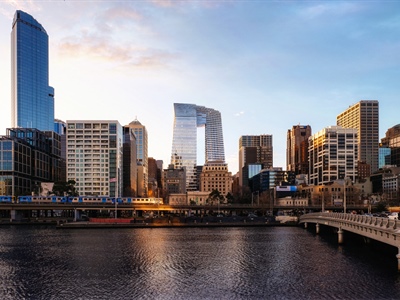 One of the more polarising and controversial Melbourne developments in recent times has commenced construction.
Deemed by some to be the most significant architectural statement in Melbourne since the creation of Federation Square, Collins Arch by Australia's Woods Bagot and New York-based Shop Architects has finally begun construction after going through three major alterations since its first instance in 2014 on account of planning rejections.
The original proposal for the 5,926sqm island site was a singular 295-metre skyscraper, but this was rejected as it was deemed too high for its location. Woods Bagot and Shop then returned to the table with a largely amended project, swapping out the single tower for two towers, one commercial and one residential, which would link up at their 47-storey apex to form Melbourne's only skyscraper skybridge. This was also rejected because it would have cast a shadow across to the south bank of the Yarra River.
The rejection from Victorian Planning for the development prompted an online petition and social media campaign, Save Melbourne's future international icon and tens of thousands of construction jobs, to have the project reconsidered. The building was publicly praised by the Melbourne City Council, the would-be governing authority for the project were it not for the interim planning controls (Amendment C262) placed on central Melbourne by the state government back in September 2015.
But the interim controls imposed a 24 story height limit for the CBD, so proposals above 24 storeys were now considered a state planning amendment, rather than a typical town planning development approval. This was the main sticking point for the organisers of the petition.
In April this year Woods Bagot and Shop reduced the height of their commercial tower design for 447 Collins Street to minimise overshadowing over the Yarra River and appease Victorian Planning.
The approved $1billion development will transform an entire 6,000sqm city block into the city's first true mixed-use precinct to feature luxury apartments, a five-star hotel, WELL-rated offices, retail and 2,000sqm of public open space including a tiered amphitheatre. Collins Arch's unique design features two towers linked by a sky bridge spanning 14 metres. Bounded by Market, Collins and William Streets as well as Flinders Lane, the site of the development was once the location for Melbourne's first official fruit and vegetable market in the 1800s.
"Collins Arch will be a vertical village within the city that will transform our skyline. A flourishing destination drawing people from across the city, Collins Arch will be a place for thousands to live, work, play and stay," says Adrian Pozzo, the CEO of Collin Arch's developer, Cbus Property.
"Collins Arch will demonstrate how to transform an under-utilised part of our city into an internationally significant precinct that activates the central core with a 24-hour life," adds Woods Bagot director Nik Karalis.
Construction on the project began on 6 October and will take approximately three years to complete. It is anticipated that the building will open late 2019