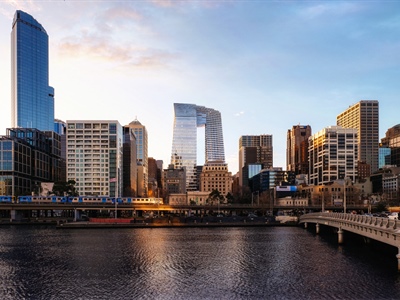 Super fund developer Cbus Property has won backing from city planners for a bold proposal linking two towers in the heart of Melbourne, that will nevertheless test strict new controls imposed by the state government.
The dramatic design by Australia's biggest architecture firm, Woods Bagot, and New York-based SHoP Architects joins a commercial tower and a neighbouring apartment building across their tops.
The $1.25 billion proposal for the Collins Street site goes before city council next week. Its planners have prepared an enthusiastic report, recommending town hall support it.
"The bridge link will result in a spectacular architectural form that will be uniquely Melbourne and will set this proposal apart from other contemporary architectural responses in the city," they wrote.
The development comprises 68,356 square metres of office space, 269 hotel rooms and 315 dwellings, along with ground-floor retail.
The current plan delivers 2000 square metres of publicly accessible space at ground level on the vast 6000-square-metre island site.
That element has strong appeal for the council, which has previously considered how it could expand the open space by reserving an adjoining street for public use.
It is the second bid by Cbus Property to win approval at the site after a much taller 295-metre tower was rejected by Planning Minister Richard Wynne due to the extent of its shadow across the Yarra River.
The redesign addresses that shadowing issue, trimming the project to 165 metres. Just two days before Cbus was due to lodge its new plan in September, Mr Wynne introduced interim controls across the city, limiting height and plot ratios.
While the new plan casts less shadow and complies with the old rules for sunlight, it breaches the interim rules on shadowing.
Mr Wynne has discretion to grant exemptions for proposals that in some way benefit the community, including through the provision of open space.