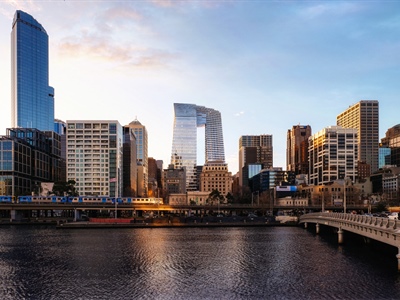 Super fund developer Cbus Property has outlined fresh plans for a $1.25 billion development in the heart of Melbourne's Collins Street, in a key test of strict new planning rules in the city.
The mixed-use project in the property giants second attempt to get building on the vast 6000-square-metre island after an earlier proposal for a 295-metre tower was knocked back due to the extent of its shadow across the Yarra River.
Even with significantly scaled-back proposal, Cbus runs the gauntlet of the state's planning regime.
The developer was only days away from lodging its revised plan, when planning minister Richard Wynne introduced strict interim planning controls last month.
The super fund developer has applied for an exemption to the new regime and outlines the new plan.
The revised 42-level plan rises to only 170 metres and comprises two towers that will deliver about 50,000 square metres of office space, 250 hotel rooms and 260 apartments.
A pocket of public space has been included along Collins Street. However, the revised Cbus proposal could still run foul of the new interim control regarding setbacks, shadowing and building podium height.
My Wynne can still exercise a ministerial decretion to approve proposals that fall outside the new controls.
Such exemptions can be made for proposals that in some way benefit the community, including through provision of open space.
"This is a very significant site", Mr Wynne told the Australian Financial Review on Tuesday. "It's a whole city block. I do have discretion and I will consider that application".