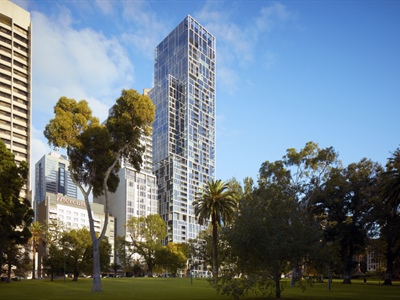 Fears that large numbers of Melbourne's new apartments will not settle are receding, with strong population growth set to support demand, according to Cbus Property chief executive Adrian Pozzo.
"I think there was concern," Mr Pozzo told The Australian. "In North Melbourne we finished a project in June last year and we had about a dozen of the apartments that wanted a delayed settlement, so we gave them an extension. We had one default, I think, in all of that.
"Yes, there was a hiccup (in the market) for six or 12 months. But I think it's rosy — I think it's all OK.
"The population here is increasing by 100,000 a year; they've got to live somewhere."
Mr Pozzo was speaking at the opening of 35 Spring Street, a 42-storey luxury apartment tower on the eastern edge of the Melbourne CBD, near the Paris end of Collins Street.
Victorian Planning Minister Richard Wynne and former Victorian premier turned chairman of Cbus Super, Steve Bracks, also attended the building's opening yesterday, with residents set to start moving in this month.
The development was designed by architecture design firm Bates Smart.
The sold-out block has 241 apartments, down from an original plan for 270 due to some buyers preferring to combine units. Several have an uninterrupted view of Treasury Gardens, and amenities include a 25m lap pool, wine cellar, dining room and gym.
A handful of the units are being resold, with one listing on realestate.com.au offering a one-bedroom for $600,000 to $660,000. At the top end, apartments had been priced at more than $6 million.
Cbus Property's other projects include the high-end mixed use development Collins Arch in Melbourne and the premium apartment block at 88 Alfred Street in Milsons Point in Sydney.
Mr Pozzo said the group was also looking at opportunities for quality high-density projects at the more affordable end of the market.
"We believe there is opportunities in that space at the moment. We're currently looking at that space," Mr Pozzo said. "We believe there's a vacuum in there at the moment."
But he said the high cost of land in Melbourne and Sydney was a problem, and made it "difficult to make a development stack up".
Several developers have raised concerns about the added costs to projects from state and federal taxes, or delays from planning processes.
But Mr Pozzo said he had "no real wish list" from government, and concurred with the call from NAB chairman and former Treasury secretary Ken Henry last week for companies to step up rather than waiting for political reforms.
"Planning changes all the time, so there's nothing we can do about it, we've just got to work with it," Mr Pozzo said.
"We believe we shouldn't be waiting for government. We've got to create the opportunities ourselves."
He offers one suggestion: that "it would be nice if we had one standard set of rules around Australia" about the contributions developers need to make when working on new projects. "Let's make it across the board so … we're all on a level playing field."