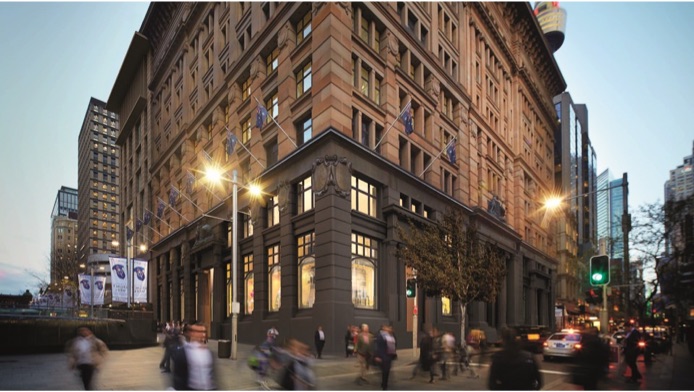 Commonwealth Bank of Australia is close to a move to developer Lang Walker's $1.3 billion Collins Square project in the Docklands area of Melbourne, after shunning an alternative proposal to expand in the city's central business district.
According to senior sources, the country's largest bank will take 10,000 square metres in the Marsh Mercer tower, leaving its current landlord, the Commonwealth Property Office fund (CPA) with an 18,000 sq m hole to fill at 385 Bourke Street.
The expected move has caused some surprise in the market, particularly as the financial institution controls a substantial slice of the real estate trust and many assumed it would anchor a new building next door to its existing headquarters.
CPA has planning permission for a 16-storey office tower above the Galleria mall at the back of the Bourke Street block. But it is understood that Commonwealth Bank has opted to join its peers ANZ Banking Group and National Australia Bank in the Docklands, although its presence will be low key as the signage rights to the tower are held by Marsh Mercer.
Commonwealth Bank will still retain a prominent city centre location. While its corporate team is headed for Collins Square, its back office will be housed in the former stock exchange building at 357 Collins Street, which Australand Property Group is refurbishing.
Commonwealth Bank declined to comment but sources familiar with the negotiations said the institution had been persuaded by the relatively cheap $480 per sq m rent, along with a 25 per cent incentive, from Walker Corporation.
For CPA, a move would mean the Bourke Street office development will be put on ice until the trust has bagged a tenant to replace Commonwealth Bank, which occupies 19 floors of the building.
An option to acquire a 50 per cent stake in the Ernst &Young building at 8 Exhibition Street is also expected to be delayed. CPA acquired the right to buy half the property, which is valued at about $300 million, as part of a $36.5 million deal it struck with Cbus on 5 Martin Place in Sydney.
The trust has until the end of June next year to exercise the option but sources said the softening rental market may translate into weaker values.
Over the next 18 months, more than 10 skyscrapers will be completed in Melbourne, compared with just two in Sydney.
CPA fund manager Charles Moore declined to comment on Commonwealth Bank's plans or the Exhibition Street option but said the city's rental market was starting to exhibit signs of excess supply. He said Melbourne was a "rarity" as large-scale tenants in the suburbs were moving into the city fringe to take up space in the Docklands.