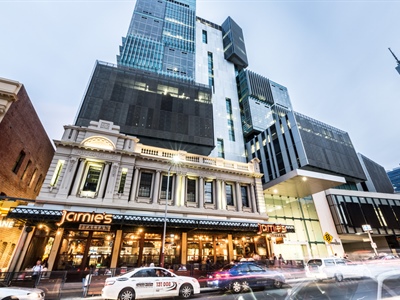 Melbourne-style laneway culture is set to hit 140 William Street.
Cbus Property has lodged a development application with Perth city council to transform 140 into a "lively urban village of bars and restaurant connected by laneways and meeting places."
Inspired by the Melbourne small bar scene, the laneways which connect Murray Street Mall to William and Wellington Streets will include a mix of dining, bar and retail outlets.
Under the proposal, local artists will be commissioned to create bespoke artwork and sculptures.
The development will also include a series of open spaces with new food courts.
Jamie Oliver is set to open a Jamie's Italian at the city centre hub early next year.
140 is already host to a range of trendy pop-up shops, artist studios and eateries, including Mrs Browns Vintage and All of the Above Creative.
"…our challenge is to create a more accessible and inviting retail and dinig destination at 140," said the 140 manager Andrew Taylor.
"Redevelopment will attract more people to 140 and the Perth CBD to experience the cosmopolitan laneway culture.
"The existing heritage buildings will provide the perfect backdrop for the engaging artworks, making 140 the place to visit in Perth."
Perth city council is expected to vote on the application by late November 2012.
If approved, Cbus estimate that construction would be completed by the end of 2013.
The redevelopment of 140 is the latest in a string of Cbus projects around Australia including 1 Bligh Street in Sydney and 171 COllins Street in Melbourne.