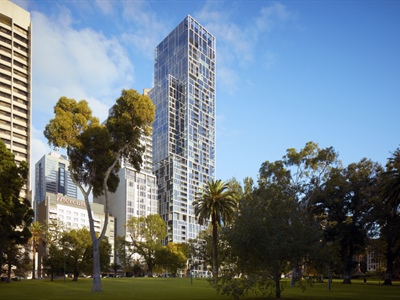 The eastern end of Melbourne's CBD has been regarded as the top end of town since the 1880s. It is an easy reputation to spot, given the ornate architecture, hatted restaurants and exclusive brands along the likes of Collins Street and Flinders Lane.
Along the city border lies Spring Street and the engine rooms of the state government. Landmarks such as the Regent and Princess theatres and the old Treasury building make this end of town memorable.
Award-winning architects Bates Smart are capitalising on the Spring Street surrounds and have designed a landmark of their own at 35 Spring Street.
The 43-level tower has been launched by Cbus Property to take advantage of an area that has long been valued as "the" place to work, shop and catch a show.
Who buys
The number of people living in Melbourne's city has exploded in the past five years to more than 20,000 and the CBD population is predicted to hit 40,000 by 2018.
A high number of students wishing to rent in the city has prompted investors to purchase apartments.
The new crop of buyers for the CBD and surrounding suburbs, such as East Melbourne and South Yarra, are likely to be baby boomers downgrading to high-end apartments and penthouses.
Market view
Australian Property Monitors says the Melbourne city median house price is $1.24 million; $420,000 for units.
Inner-city developments have spiked in the city since the 2010 property boom. Cbus Property chief executive Adrian Pozzo says 35 Spring Street's location and design is meeting an unsatisfied sub-market of inner-city buyers who want a luxury unit at the prestigious end of the city.
In focus
The development overlooks the Yarra River, Fitzroy and Treasury Gardens. Bates Smart director Kristen Whittle says the design reflects the traditional architecture and history of the area.
Residents will have access to a 25-metre lap pool, lounge area, gym and deck with barbecue. There is also a shared wine storage area and dining room which can be booked to entertain larger groups.
One, two and three-bedroom apartments range from 65 square metres to 330 square metres, and are priced from $550,000 to more than $6 million.
Construction is expected to begin in 2014 and be finished by 2017.