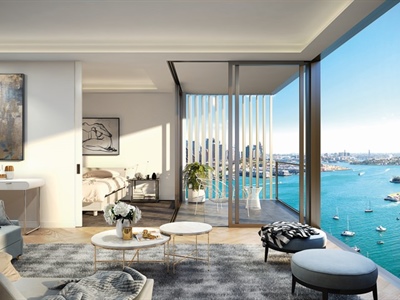 Those who bought off the plan in 2015 will soon see investment.
There will soon be another jewel in the Milsons Point property crown as 123 luxury apartments with the best views in Sydney near completion at 88 Alfred St. The highly anticipated 88 Alfred St development is set for completion mid year with final sales figures expected to be more than $215 million.
The Cbus Property residential development saw all 123 luxury apartments sell within a matter of weeks after its launch in May 2015. An extensive renovation of the former Vibe Hotel, the multimillion-dollar complex will consist of a number of studios, one, two and three bedroom apartments, ranging from $715,000 for a studio, to $6 million for a penthouse.
Cbus Property chief executive Adrian Pozzo said the developments' prime location attracted a high volume of instant buyers.
"The Milsons Point address was a key attraction to purchasers," Mr Pozzo said.
"The project has a unique location that captures the prestige of a harbourside address, while being centrally located to transport, and also offering a village environment on one side with Kirribilli."
Mr Pozzo said the project attracted a wide range of buyers, from local area investors and downsizers, to a high portion of over 20 per cent of overseas buyers.
Purchasers were also able to witness expected Sydney Harbour to Lavender Bay apartment views, while inspecting the property designs from the existing former Vibe Hotel.
Tailor-made by renowned architects Bates Smart, the luxury apartments will feature state-of-the-art premium finishes and customised designs, that Mr Pozzo believes are unlike any other development in the area.
"Interiors have been designed to be timeless," he said.
CoreLogic data reveals the median unit price in Milsons Point has increased by 95.1 per cent throughout the last three years.