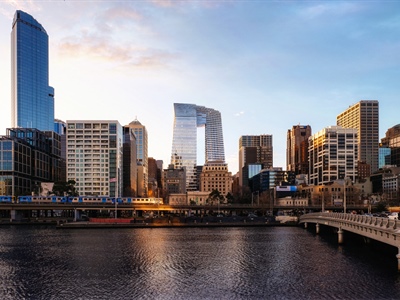 Cbus Property is expected to kick-off construction of its $1.3 billion Collins Street skyscraper before the end of the year after Victorian planning minister Richard Wynne reached agreement with the developer on a scaled-down version of its huge city block-wide mixed-use project.
The negotiated outcome, foreshadowed by The Australian Financial Review, follows Mr Wynne knocking back an application in March for a 164-metre high, 47-storey twin tower proposal – dubbed the 'pantscraper' – at the 447 Collins Street site because it would have cast a significant shadow over the Yarra River.
Mr Wynne said he had reached agreement with Cbus Property for a development that would be 21.6 metres shorter in height, cutting six stories from the tower complex and reducing overshadowing to just touch the northern bank of the Yarra River at mid-winter.
There are also plans for a bigger inner city park that would include a portion of Market Street. "We've worked in a productive way with Cbus Property to ensure we protect amenity of the Yarra River," Mr Wynne said, "Cbus Property is eager to get on with the project," he said.
Cbus Property chief executive Adrian Pozzo was contacted for comment, but had not responded by the time of publication. Mr Wynne rejected any suggestion the developer, which is owned by construction industry super fund Cbus and chaired by former Labor premier Steve Bracks, had received favourable treatment from the current Victorian Labor government.
"Any suggestions there were any conversations between me and representatives of Cbus Property are completely wrong. I have not spoken to Steve Bracks since the funeral of [former premier] Joan Kirner in June last year. "Cbus Property are a major developer in the city, there is no doubt about that. This is a high quality development for the city. They have every right to get on with their business," Mr Wynne said. Construction expected to start in 2016