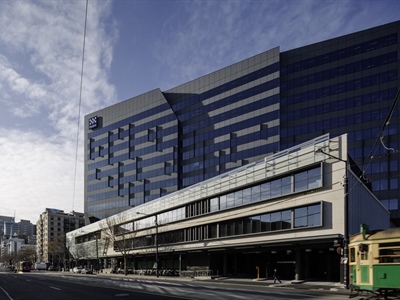 Victoria Police has unveiled its new headquarters in the Melbourne CBD, purpose built to protect officers from the threat of terrorism and bikie violence.
The state's crime command has a new headquarters at 313 Spencer Street, home to 1500 staff in a 12-storey building, where the higher the floor, the higher the ranking.
Premier Daniel Andrews has promised more officers will see the outside of station walls than they used to, with the new scheme of private prison guards taking over cell management.
"We have to make the best use of the best skills and uniform officers need to be out there, not as prison guards," he said.
The new building pays tribute to some of Victoria's darkest days, including the infamous Russell Street bombing.
"You can see some bollards, you can see we're elevated above the ground as you enter the police station," Assistant Commissioner Stephen Leane said.