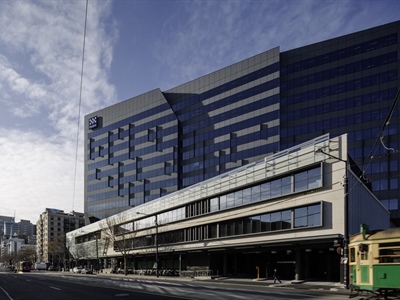 Architectural firm Woods Bagot has unveiled designs for a A$230m $235m) Victoria police complex to be built on Spencer Street in Docklands, Melbourne, Australia.
The 27,000m², 12-storey complex will house the city of Melbourne's crime department, intelligence and covert support department as well as the Melbourne West Police station.
It will consolidate three existing sites, namely 412 St Kilda Rd, 452 Flinders St and the Melbourne West Police Station component of 637 Flinders St.
Melbourne's acting chief commissioner Tim Cartwright said that the new facility from developer Cbus Property would provide a vastly improved headquarters for three of the force's busiest departments.
"The new facility will be highly visible, providing reassurance and enhanced security for Victorians going about their daily business," Cartwright said. "It will allow us to project a strong police presence in the docklands area, at Southern Cross, and in the nearby entertainment precincts, including King Street."
The complex will offer police with improved access to arterial roads and tram tracks for emergency driving across western Melbourne and through to the centre of the Melbourne CBD.
It will also feature shops, meeting rooms, a cafe, waiting areas and entry points at street level.
The design scheme will allow for two distinct buildings linked by a shared floor, separating the operational tower from a clearly identifiable police station.
The Victorian Government is investing A$68m ($69.9m) into the development, while Cbus Property is providing A$162m ($166.5m).
The facility will accommodate Victoria Police until 2035 with an option to extend the lease further.
Construction of the facility will begin next year and is anticipated to be completed in 2015.