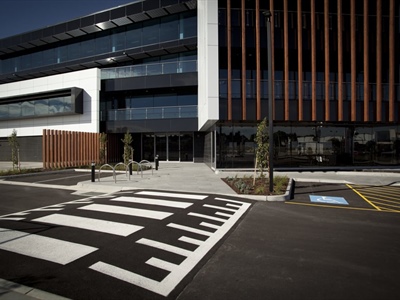 Industrial builder Vaughan Constructions is expanding into the retail sector, signing contracts to develop three new Melbourne bulky goods centres worth more than $80 million.
Vaughans has won contracts for two near Masters hardware stores in Melbourne and work has also begun on a $15 million bulky goods centre in Dandenong South.
Vaughan Constructions Victorian development manager Jordan Grigg said the company was diversifying to capitalize on the growing retail hardware market.
"We're quite well known in industrial construction and we're hoping that flows on into retail, we decided to increase our diversity and move across mid-sized projects," he said.
Fantastic Holdings, owners of home ware retailers including Fantastic Furniture, commissioned a 12,000 square metre outlet on Frankston-Dandenong Road in Dandenong South, which will be finished late this year. Tenants will include The Good Guys discount electrical store and a Best Friends pet store.
Mr Grigg said Vaughan's large scale industrial projects built for Woolworths in the past had put the company in good stead ahead of the new $49 million Woolworths –Lowes hardware joint venture, Masters.
Vaughans has been contracted to deliver five of the outlets.
Vaughans built the first of 150 outlets Masters set to open across Australia, a 13,500 sq. m store which opened in Braybrook, 9km west of Melbourne, in September last year, followed by the Burnside and Coolaroo stores.
Most recently, funds manager Cbus Property, operating on behalf of the construction and building infrastructure superannuation fund Cbus, awarded Vaughan Constructions a $30 million contract to build a new Masters outlet at the Estate 1 Business Park in Dandenong.
Vaughans will also build another Masters building in South Morang, on the corner of Plenty Road and McDonald Road.
"We've got 19 jobs on the go across Melbourne at the moment; we're also looking at the expansion of Bunnings." Mr Grigg said.
Although many believed the construction market was flat, the bulky retail sector was thriving, he said.