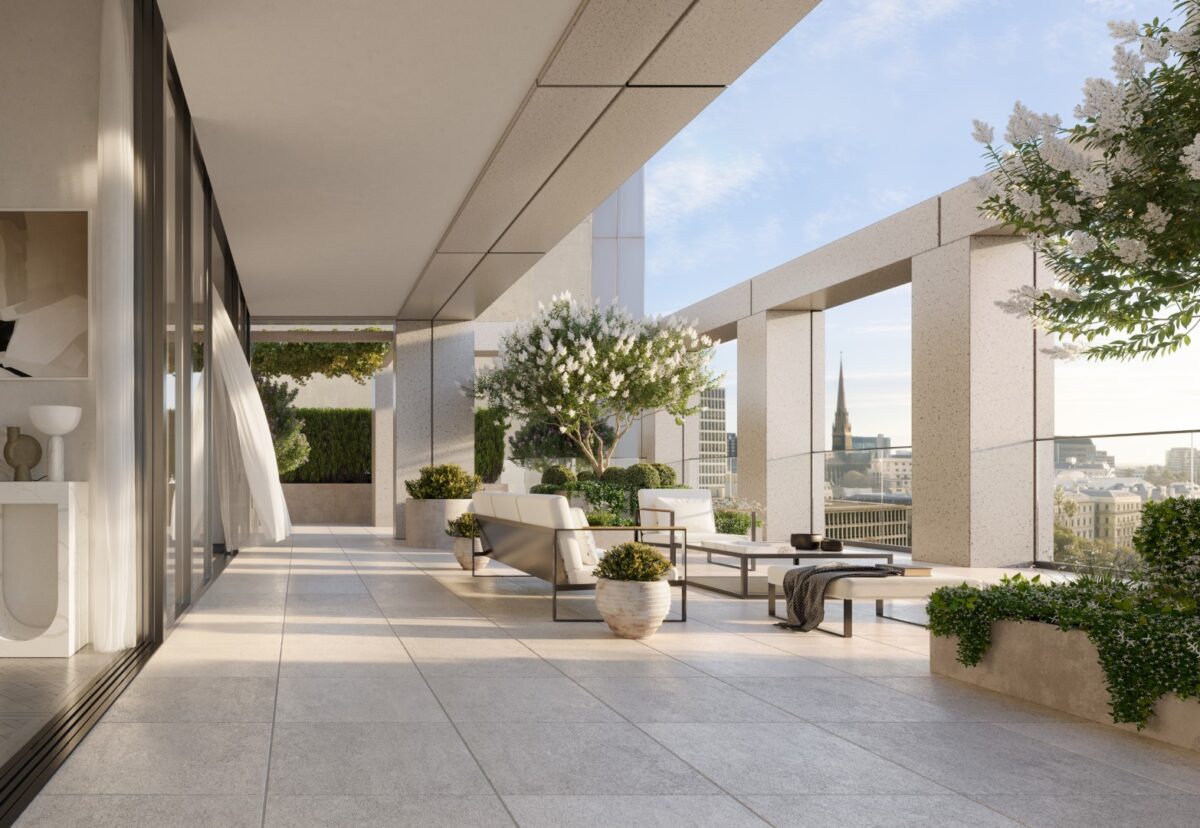 JULY 2021
Two whole-floor residences at Cbus Property's exclusive 17 Spring St residential project have sold off the plan in two weeks for a combined total of $25 million, demonstrating continued strong demand for high-end residential product in Melbourne.
The Garden Residence, which occupies all of level 10 and features an expansive 282-square-metre terrace with landscaping by Australia's preeminent garden designer, Paul Bangay, sold prior to the commencement of its marketing campaign. The second whole-floor residence on level 31 sold shortly after The Garden Residence.
Cbus Property's Chief Executive Officer, Adrian Pozzo, said the sales showed that overwhelming confidence in the market remained for well-placed product, despite the challenges generated by the COVID-19 pandemic throughout the past 18 months.
"Cbus Property continues to experience strong owner-occupier demand for premium residences in prime locations and our purchasers see immense value in buying at the top end of Melbourne's CBD," Mr Pozzo said.
Architecturally designed by Bates Smart, the $300 million 17 Spring St occupies a 1,270-square-metre site at the east end of Spring Street, formerly occupied by the Mercure Melbourne Treasury Gardens. It comprises 73 two- and three-bedroom, and half- and whole-floor residences, each with views overlooking the Treasury and Fitzroy Gardens.
Construction is anticipated for completion in late 2022, creating approximately 870 jobs throughout its duration, with the whole-floor sales bringing 17 Spring St to 98.6 per cent sold and just one whole-floor residence remaining. The outstanding result echoes the project's highly acclaimed predecessor, the pioneering 35 Spring St, which also sold out 100 per cent off the plan and was completed in 2017.
Colliers International was appointed as the exclusive selling agent on the project and brokered the whole-floor sales, with Director of Residential, Brett Griffith, saying that "despite the challenges brought about by COVID-19 throughout the past 18 months, our team cannot keep up with the demand from buyers seeking premium residences in Melbourne CBD's premier streets, such as Spring Street".
"Quality apartments from quality developers are extraordinarily resilient in all markets; they very rarely shift or drop in price," Mr Griffith said.
The whole-floor sales also follow the overwhelming recent success of Cbus Property's Collins Arch, with the final $30 million of premium residential stock now sold in the world-class mixed-use precinct.
Cbus Property's residential offering in Melbourne is now limited to one final residence at 17 Spring St, plus 39 Carr-designed residences in South Yarra, with the official launch of Como Terraces last week, in conjunction with Sterling Global.
"17 Spring St and Collins Arch appear to be following a remarkably positive trend also occurring across New South Wales and Queensland, with a number of our projects in Sydney and Brisbane experiencing resounding success in recent months," Mr Pozzo said.
"As an example, more than 59 off-the-plan sales have been recorded since the VIP launch of Young & Fennelly, the highly anticipated third release of our Newmarket Randwick masterplan."
17 Spring St, Collins Arch and Como Terraces form part of Cbus Property's extensive luxury residential pipeline across Victoria, New South Wales and Queensland, including 111 Castlereagh in Sydney's CBD, Newmarket Randwick in Sydney's eastern suburbs, and 443 Queen St in Brisbane's CBD.