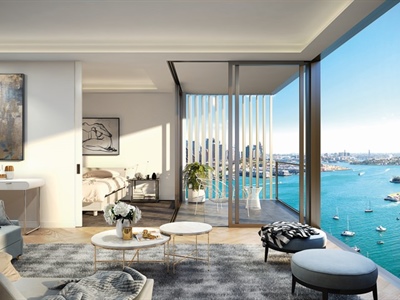 IF RESIDENTS on the lower north shore were in any doubt of the current strength of the local market, the recent sale of 144 Kurraba Rd, Neutral Bay, should act as a firm reassurance.

The four-bedroom family home listed with McGrath Neutral Bay was scheduled to go under the hammer on May 9, but due to unprecedented buyer demand it was brought forward to April 29, selling agent Piers van Hamburg said.

There were seven registered bidders at the auction, with the reserve set at $3.6 million.
After an opening bid of $3.1 million, the home sold 22 bids later for $4.2 million to a Surry Hills family.
"It was very popular in particular with downsizes because it's very hard to find a house for that size all on one level and with views," Mr van Hamburg said.
"It was a once in a lifetime opportunity, very rare."
The launch of Cbus Property's Milsons Point development, '88 Alfred Street', which involves the renovation of the Vibe Hotel building, saw 100 of the 123 available properties snapped up for a combined total of over $175 million.
A mix of buyers turned out on the day, mostly from Milsons Point and surrounding north shore suburbs, with particularly strong interest shown for the higher end properties.
"It was an enormous benefit having the existing Vibe Hotel structure as buyers were reassured about what view they would have upon the project's completion (which) helped create a strong interest in our premium apartments," Cbus Property CEO Adrian Pozzo said.
"We are used to seeing the lower price range apartments snapped up during this type of sales process, however, due to the location and the limited supply in Milsons Point the reverse is happening.
"People feel that if they don't jump in now they'll miss out on the views and the better apartments."
Prices for studios started at $715,000, while penthouses were priced from $5 million.