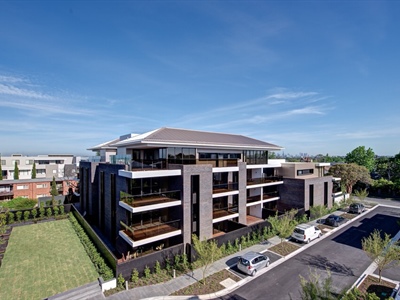 When retiree Bev Hall relaxes on her spacious north-facing terrace overlooking Jack Merlo-designed gardens next summer, she'll be thinking about holidays, not getting the lawns mown or ringing the plumber.
Downsizing to a luxury apartment in the Warleigh Brighton will give her the freedom to live life to the full without the ties of home and garden maintenance. The Bay Street village and the North Brighton train station are a two-minute stroll around the corner and Hall is looking forward to a 15-minute train trip to the city.
"One of the big changes in my demographic is that we are always busy. We're out doing courses, meeting friends, going to events and travelling. We're not sitting at home baking, waiting for people to visit. I don't want to be at home all the time. I want the freedom to come and go. Selling a larger home also gives you the financial freedom to pursue your interests," Hall says.
After raising five children and a career in private investment, Hall is making the most of life. Despite researching apartment developments for some time, she had found none that met her strict criteria until she walked into the Warleigh's sales office in Bay Street, Brighton, recently.
"I come from the peninsula, so I wanted a bayside suburb and to be close to a train station to get into the city quickly, without having to drive. The location had to have a village atmosphere, and of course there had to be fabulous coffee close by.
"I wanted a north-facing apartment with quality finishes and two bedrooms and two bathrooms, so family and friends can stay," Hall said.
The Warleigh ticked all of Hall's criteria. When she saw the quality of the Warleigh's first completed apartment, she says she knew this was where she had to buy. The offer of a 5 per cent deposit and being able to move in by Christmas this year sealed the deal.
"The apartments here are the best I have seen – they are spacious with timeless interiors and quality finishes. My guests will not only have their own en suite, they'll also have a car park because my apartment has two car parks, not just one."Hall says Bay Street is one of the few high streets that still has a village feel – where you can get to know the shopkeepers and become part of the village.
"I want to be part of a community and here that starts with the Bay Street village, where everyone is very friendly. I will have the best of both worlds, living in a lovely quiet, residential street around the corner from Bay Street and North Brighton train station. I will have the time to do interesting things without having to worry about the garden or even putting the rubbish out. I can see myself still living here comfortably and safely when I am an old lady."
The Warleigh Brighton has 39 apartments in the Luxe building, 62 apartments in Domaine and seven luxury townhouses designed by SJB Architects, all with larger floor plans and competitive price points. More than half of the 9015-square metre site is dedicated to Jack Merlo-designed lawns and gardens and a tree-lined entrance avenue. The $100 million development of the former North Brighton Croquet Club by Cbus Property, backed by building and construction industry superannuation fund Cbus, is scheduled for completion later this year.
Homes have double-glazing; video intercom, integrated air-conditioning, Miele stainless-steel kitchen appliances, stone benchtops, and wool-blend carpets. Apartments have designated parking and secure basement storage and the townhouses have double garages with internal access.