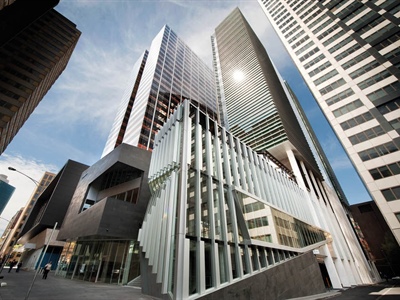 Superannuation fund Cbus Property is said to have sold its office tower in Sydney at 130 Elizabeth Street for $120 million to a Chinese investor/developer.
The Melbourne-based super fund bought the site in 2013 for about $55 million as part of the former GE Capital Real Estate property portfolio and had indicated it would convert the 14-storey office tower, which overlooks Hyde Park, to apartments.
This comes as more than $20 billion of cash could flow into Australian office and retail markets in the coming year as overseas investors seek out better yields and quality properties in the current global environment of low interest rates, investment managers say.
Agents said the high demand for offices from overseas and local developers was likely to ignite similar deals this year as the prices being offered were too hard to ignore.
Cbus Property has been restructuring its property portfolio with the $608 million sale last year of the CBW complex in Melbourne to the GPT Wholesale Office Fund. The super fund is also the co-owner of the 5 Martin Place office project in Sydney and has declined to comment on the market speculation.
Sigrid Zialcita, managing director, research, Asia Pacific, Cushman & Wakefield, said in Sydney at a briefing that foreign investment in the region's office properties, which comprise close to 30 per cent of total office investments, reached $US19.5 billion ($25 billion), growing by more than half to hit post-global financial crisis highs.
"With financing conditions expected to remain conducive, in addition to strong capital raised last year, volumes in 2015 are expected to increase further," Ms Zialcita said.
"The core markets are again expected to carry much of the growth in 2015 with Tokyo and Sydney continuing to resonate with investors as both markets offer spreads that are among the highest in the region."
Cushman & Wakefield Australia's managing director, David Woolford, said in Australia, Melbourne and Sydney were emerging to be key drivers of the country's shifting economy; interest in core office real estate would likely be sustained as it stood to reap the most benefits from the changing landscape.
Paul Guest, head of research and strategy, Asia Pacific, LaSalle, said at a briefing in Sydney on Tuesday that the rent growth outlook for Australia had improved as demand had picked up, led by Sydney and Melbourne.
"Investors need to be conservative in their underwriting and cautious in their expectations. They should focus on holding assets in 2015 that can be improved and/or actively managed. Where taking development risk, concentrate on sectors where there is abundant end-user demand driven by big trends and avoid markets where aggressive rent growth has already taken place or needs to be priced in," he said.