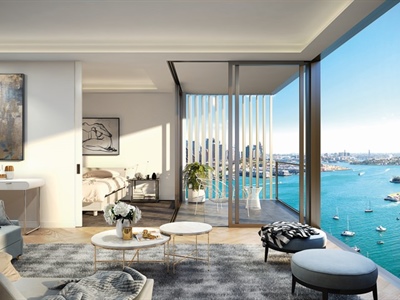 The super fund Cbus is said to be edging ahead as the preferred bidder for 88 Alfred Street, Milsons Point, now occupied by the Vibe hotel and valued at more than $80 million.
The site has immediate redevelopment potential with development approval for 87 residential apartments and 10 commercial suites over 16 floors. There is also an alternative scheme for 132 residential apartments over 16 floors and ground floor retail areas subject to receiving all regulatory approvals.
Agents to the deal, CBRE and JLL, who are advising the vendor, a syndicate associated with Greg Shand's Barana Group, declined to comment.
But the high price is a reflection of the demand super funds have for development properties close to the city that can offer high-priced residential conversions.
Cbus is a large investor in Sydney, with a half-share of the 5 Martin Place project and a residential development at 130 Elizabeth Street. It also has a $1 billion mixed-use project at 447 Collins Street, Melbourne.
The fund recently put about $1 billion of Melbourne city properties on the market, including the NAB building on Bourke Street in the Docklands and the landmark CBW complex on the corner of Bourke and William streets.
The sale comes as office demand continues to be a tale of two cities: Melbourne and the Sydney central business district appear to have turned a corner with positive office demand in the past quarter.
DEXUS general manager, research Peter Studley said in the DEXUS Australian Real Estate Quarterly Review for the third quarter this year that Sydney's CBD and its metro markets of Parramatta, North Sydney and Chatswood all experienced positive net absorption and a tightening of the vacancy rate in the second quarter (to June 30.)
"North Sydney's performance will be closely linked to the Sydney CBD market," Mr Studley says in his report. "North Sydney experienced positive net absorption in the second quarter after 6 quarters of negative demand, causing the vacancy rate to fall slightly to 10.6 per cent.
"There will be no new supply until 2016, keeping a cap on vacancy. There is a risk of tenants migrating to available stock in the CBD."
In Melbourne, the city has grown rapidly over the past 10 years, expanding to cheaper sites in the Docklands precinct. The construction pipeline continues apace with 130,000 square metres to be completed in the next 18 months.
Demand is improving after a poor 2012 and 2013, but vacancy increased to over 11 per cent in the second quarter this year due to the completion of Medibank's new 47,000-square-metre headquarters in Docklands.