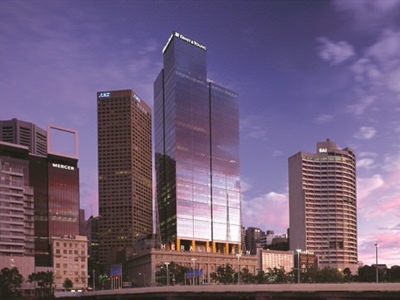 Singapore-listed Keppel REIT has gained a 50 per cent investment in the $320 million Ernst & Young tower in Melbourne, through a deal with fund manager Colonial First State, which has a call option on the stake.
Developed by super fund player Cbus Property, the landmark tower offers 45,000 square metres of office space, rising from the historic Herald & Weekly Times building at 8 Exhibition Street.
The Colonial-managed Commonwealth Property Office Fund acquired the call option as part of an earlier deal when Cbus Property bought into the 5 Martin Place project in Sydney.
Under that deal, struck two years ago with Cbus, the Colonial fund had until June 30 to exercise the call option at market value.
As foreshadowed by The Australian Financial Review, Keppel REIT has announced the deal to buy the 50 per cent interest for $160.2 million, through CFS Managed Property Ltd as its Australian sub-trust trustee.
"This is a rare opportunity to acquire a freehold premium grade office building in the most prime part of Melbourne's CBD and will add to Keppel REIT's sterling portfolio of commercial assets in Singapore and in the key cities of Australia," Keppel REIT Management chief executive Ms Ng Hsueh Ling said.
CBRE agents Rick Butler, Mark Coster and Josh Cullen were involved in introducing the Colonial-managed fund and Keppel REIT to the transaction.
"It's an extremely high-quality building, beautifully developed by Cbus and with an institutional partner in place on the other half," Mr Butler said. "This is a continuation in the strong interest in Australian property from offshore."
The Keppel deal comes not long after GPT's unlisted office fund bought the first half of the tower at a similar price on a firm 6.5 per cent cap rate.
Cbus Property is more often seen as a develop-and-hold player, but chief executive Adrian Pozzo has shown he is willing to recycle investments and bring in joint partners when he can strike a good deal.
In recent months, Cbus brought in global funds giant Invesco as a 50 per cent investor for its $230 million new police complex on Spencer Street, in Melbourne's Docklands.
Moody's Investors Service said the 8 Exhibition St deal will improve the quality of the Singapore trust's property portfolio.
"The acquisition further improves Keppel REIT's geographic diversity and provides growth in its asset base, which has more than doubled to over SGD6.6 billion since the REIT's first overseas acquisition three years ago," Moody's analyst Jacintha Poh said in a note.