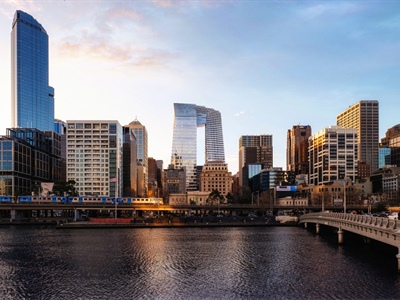 SHoP Architects and Woods Bagot selected to design landmark development on Melbourne's renowned Collins Street
Awarded by Cbus Property, the Project Will Be the First True Mixed-Use Development in Australia
NEW YORK and MELBOURNE – Today, Cbus Property, the property investment subsidiary of Cbus, a superannuation fund based in Melbourne, announced the team of SHoP Architects (New York) and Woods Bagot (Melbourne) as the winners of the competition to design a mixed-use development at 447 Collins Street, at the intersection of Collins and William Streets in Melbourne's Central Business district. The project will be the first example of a true mixed-use development in Australia creating a precinct and development to be regarded on an international level.
The winning design, which followed a comprehensive (design ) competition process over a six week period, will serve as a critical link in reconnecting Melbourne Central Business District to the Yarra river and South Bank.
The design competition for the site resulted in four outstanding proposals from the short-listed architectural teams of Hassell, Bates Smart and Fender Katsalidis, each having teamed-up with an international partner.
The site bounded by Collins, Market and William Streets and Flinders Lane, was the site of the original Western Market, Melbourne's first official fruit and vegetable market. The unique 6,000sqm 'island site' is considered by many as Melbourne's best CBD development opportunity and was recently acquired by Cbus Property in December 2013.
Chief Executive Officer of Cbus Property, Mr Adrian Pozzo, said: "the company is extremely excited to be working in collaboration with the Woods Bagot + SHoP Architects team to design and ultimately develop the 'best' single site left in the Melbourne CBD into one of the most iconic developments in Australia to date. 447 Collins Street will epitomise Cbus Property's capability to deliver world class developments, generating a vibrancy from the alternative uses that will immeasurably enhance each (use).
In addition the development works will create in the order of 8,000 jobs within the building and construction industry and associated supply chains which employ many Cbus members."
Cbus Property confirmed demolition works of the former National Mutual Building are expected to commence upon authority approval.
"We are honoured to design this addition to one of Australia's most famous street," said Vishaan Chakrabarti, partner at SHoP Architects. "This site has the potential to become a key focus of public life in Melbourne's Central Business District, as well as a new point of entry into the cross-river cultural loop."
"Maintaining the status of Melbourne as a significant global megalopolis requires continual innovation, a reputation we as a city are already known for. The 447 Collins Street development is one of the last Mid city opportunities of scale to turn on the momentum of creativity in what will be Australia's largest mixed usage urban precinct," said Nik Karalis, Director at Woods Bagot. "Our collaboration with SHoP Architects, which we specifically sought, brings deep experience of the increasing drive towards a new type of densification of cities, and the transformation of how we bring 24-hour life to our buildings, streets and city parks. This will create new urban communities, neighbourhoods and experiences. The suburbs are moving inwards; 447 Collins street precinct will be an urban catalyst as it breaks through traditional concepts of the nature of Australian cities and sets new benchmarks for mixed usage development criteria."