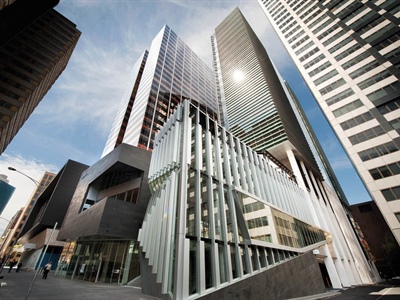 Retail property heavyweight the Scentre Group and super fun-backed Cbus Property last night unveiled their purchase of the historic David Jones Market Street building in Sydney's central business district in a landmark $360 million deal.
The purchase will be split between the pair with the listed real estate investment trust's share of the price at $182.5m and Cbus Property paying the balance of $177.5m.
Both groups will invest more to overhaul the retail offering, develop office space in the top floors and luxury appartments in an iconic tower above the building.
Their plans were first revealed in The Australian last week but were only confirmed late yesterday. Scott Gray-Spencer of CBRE and Simon Fenn of Savills brokered the sale but declined to comment.
The sale is in keeping with the plans of retailer David Jones, which will continue to occupy the site until late 2019, under a lease agreement providing a 4.5per cent per annum rental return on the acquisition price.
During the leaseback period, the co-owners will obtain the necessary approvals to re-develop the site when David Jones vacates the building.
On completion, the redeveloped 77 Market Street site will comprise about 10,000 sq m of luxury retail space integrated with Westfield Sydney.
Cbus Property, which had originally teamed with Stockland to bid for the building before an approach from Scentre, will convert the balance of the exsisting building into office space and also develop the luxury residential tower above, which will overlook Hyde Park.
Scentre will own, develop, design and build the retail elements of the site.
"This transaction is a rare opportunity to significantly expand our flagship Westfield Sydney centre," Scentre chief executive Peter Allen said.
"The 77 Market Street site will provide the opportunity for further luxury retail and high quality food, which combined with our existing Westfield Sydney and David JOnes' planned $200m investment into the adjacent Elizabeth Street store, will reinforce the precinct as Sydneys pre-eminent luxury retail destination."
Cbus Property chief executive Adrian Pozzo said that 77 Market Street provided another opportunity for Cbus Property to demonstrate its core capabilities in residential and commercial development in what is to be a top mixed use building.
"This mixed use project will complement our soon to commence $1.25 billion development at 447 Collins Street, Melbourne," he added.
The owner of David Jones Sout Africa's Woolworths Holdings, will pour up to $200m of the sale proceeds into developing the adjacent Elizabeth Street building to create a world-class 39,000sq m department store over 11 levels.
The redevelopment is expected to be completed in the second half of 2019.