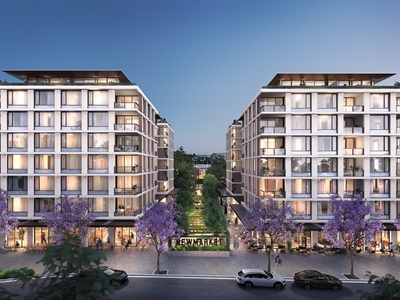 A masterplanned community inspired by Randwick's rich equine history is set to be built in the heart of the suburb.
Newmarket Randwick has been designed around the Inglis family stables at Young Street and stage one of the project will incorporate the original stables and iconic Newmarket Hotel into its design.
The stables had once been home to champion racehorses such as Might and Power, Chautauqua, and She Will Reign.
Four firms of architects have been brought to design the project by developer Cbus Property and stage one – Newmarket Residences – has been designed by Bates Smart.
The firm's studio director Matthew Allen said the stables had a rich history.
"Our design for the masterplan and the Newmarket Residences pay respect to this heritage through materiality and form" he said.
"Sandstone toned precast concrete and dark bronze metalwork are a direct tribute to Newmarket House which will remain on the site along with other heritage buldings including the Big Stable and Sales Ring."
Neeson Murcutt Architects, SJB and Smart Design are also on board.
Mr Allen said the masterplan was designed to "feel embedded in the community".
"We know how important it is in the fabric of Randwick's history. It was important to us to weave this strong cultural history throughout the development."
Stage one will offer 128 units across two eighty-story buildings, with a mix of one, two and three-bedroom apartments available. Prices for the one-bedroom apartments start from $780,000, two-bedroom units are $1.2 million and three-bedroom units start from $2.2 million.
Apartments will feature wide plank timber floors, brushed nickel tapware, leather joinery handles and stone details that create an equestrian aesthetic.
When completed, Newmarket Randwick will feature 643 apartments and terraces, more than 2500sp m of retail and commercial space and 5000sq m of open space which will include child-friendly parks and gardens.
Peter Chittenden, Colliers International managing director of residential, said the impact of the project would be apparent across the region.
"Newmarket will improve traffic flows and parking due to the creation of additional roads through the site and basement carpark and there will be an 'eat street' which is something this area lacks," he said.
Mr Chittenden expects a large number of buyers to be local downsizers and investors and planned light rail infrastructure would further increase the appeal.
"Randwick is the central hub suburb of the eastern Sydney suburbs…Now with the light rail, population and business will gravitate even more to Randwick," he said.
The project has an expected completion date of 2020.
Visit newmarketrandwick.com.au