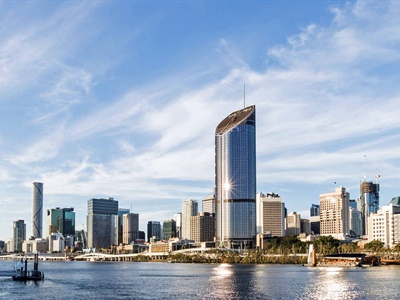 The Queensland Government has held its first Cabinet meeting in its brand new tower at 1 William Street in Brisbane's CBD.
For years, Labor slammed the Newman government for building it, now Labor has moved in and is governing from what has become known colloquially as the "Tower of Power".
A Smoking ceremony was held to mark first Cabinet at One William building. Ministers and staffers attended the traditional smoking ceremony and welcome to country. Shannon Ruska lead the ceremony.
"May God and our ancestors guide you in peace as you gather on the land of our forefathers and foremothers and let them not be forgotten for their ancestors footprints have been here long before mine and long before yours," Mr Ruska said.
Then it was up to the 40th floor Cabinet room which has two large curved wooden desks and floor to ceiling glass.
Queensland's coat of arms has been carved into the wooden floor in the middle of the room.
Ministers can look west to the mountains and down to the comparatively tiny executive building, where they met just a week before.
Premier Annastacia Palaszczuk told her ministers they need to be 100 per cent focused on the Government's legislative agenda ahead of the last week of Parliament for the year.
"We've got a big job to do we've got to get through this parliamentary week and we are definitely going to work incredibly hard to make sure we fulfil the wishes of Queenslanders and live up to their high expectations," Ms Palaszczuk said.
That legislative agenda includes reforms to Queensland's bikie laws, another legacy of the Newman government.