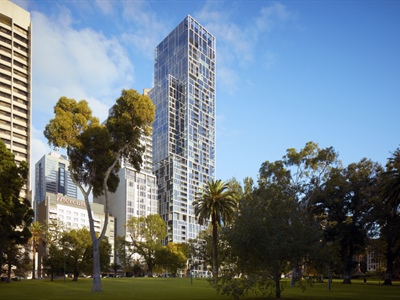 A suite of high-end apartments in a prime Melbourne CBD residential development has quietly sold off-market over the past three months, with one top-floor, off-the-plan penthouse fetching close to $13 million, according to Cbus Property.
Three other luxury units sold for between $7 and $10 million, several more went for between $4 and $6 million, with a total of 35 apartments selling above $2 million.
Almost half of the 270 apartments at 35 Spring Street on the corner of Flinders Lane opposite Treasury Gardens had pre-sold, enough for Cbus Property to commit to building the project, said Adrian Pozzo, the chief executive of the construction arm of the building industry's superannuation fund.
The million-dollar activity suggests the top-end property slump that has afflicted Melbourne's prestige market for the past three years has shifted.
Fairfax Media reported in May last year that owners of penthouse flats were having to slash prices by up to 25 per cent as the property downturn took hold.
Colliers International selling agent Brett Griffith said most of the apartments in the 35 Spring Street project had been taken by local buyers. The Bates Smart-designed building (artist's impression above) had "picked up a lot of upgraders", particularly baby boomers wanting to downsize or move to a unique CBD location.
The 43-level tower, which won't be finished for another four years, has taken advantage of this year's upturn in residential property, which has seen home auctions surge and prices stabilise despite concerns about oversupply in Melbourne's apartment market.
About 25,500 units are in the pipeline in the metro area this year and next, roughly four times what was built in 2005 when the apartment market last peaked.
"People talk about an oversupply of residential in Melbourne. There may be, but not for this project," Mr Pozzo said.
The tower will step back in three stages from nearby buildings and its metallic white finish will contrast with the beige government offices nearby.
Most CBD apartment developments with smaller single or two-bedroom apartments are structured to appeal to investors. The city's prestige buildings, such as the Melburnian and Yve, – are mostly on or near St Kilda Road.
Another city development, Mirvac's 39-storey Array tower at Yarra's Edge, is yet to sell its twin-level east and west penthouses priced around $8 million.
Dingle Partners agent Anton Wongtrakun said the top-end had "consolidated" this year.
Mr Wongtrakun sold a unit in the Westin, bordering the city square, for $6.5 million earlier this year. Another penthouse at 99 Spring Street, formerly owned by the Holmes a Court family, recently went for $4 million, he said.
Cbus was due to begin construction of 35 Spring early next year with demolition of the existing 12-storey office building and work on the tower's six-level underground car park expected to take a year to complete. Tenders closed for construction this week with Probuild, Equiset, Brookfield Multiplex, Lend Lease and Built on the shortlist.
Cbus was concentrating on residential projects because conditions in the commercial sector were a "bit tough", Mr Pozzo said.