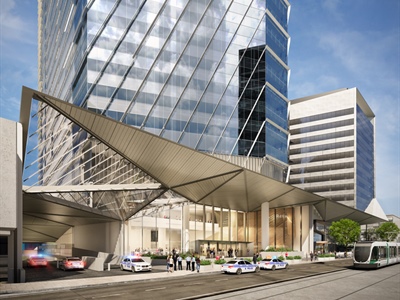 Australia Post could weigh an exit from the project at 311 Spencer Street, as the demand for office towers surges and the group is not seen as a long-term office tower owner.
While any such move is yet to be confirmed by the parties involved, the asset would likely set a new market benchmark, reflecting the bond-like nature of the 30-year rental stream to be paid by the state government in the planned 65,000sq m tower.
Few such assets have been traded in recent times with the new ANZ complex being developed by Lend Lease in the Docklands the closest comparison. It sold to Challenger and Invesco on a yield of close to 5 per cent for $430m.
Funds group AXA Investment Managers is believed to be involved, prompting speculation that offshore groups would chase the asset. The group's local unit, operating as Eureka-Real Assets, has advised Australia Post on property strategies and boasts a deep global client line-up.
However, the group refused to comment yesterday, as did the post office.
The Victorian government announced plans for the police hub last December with the building compared with New York's 1 Police Plaza at the time.
The secure 39-storey complex will house about 2500 police and be Victoria's first purpose-built headquarters since the 1940s.
The new Victoria Police Centre will be next door to the City West Police Complex that opened in 2015 and near the Melbourne Assessment Prison and courts.
Australia Post and Cbus Property are developing the vacant site under the Andrews government's market-led proposals process.
The builder, Probuild, expects to begin site works mid-May, with work expected to be completed by the end of 2019.
The police are slated to move into the new building in 2020 when their current lease at Melbourne's World Trade Centre expires.
The building will sport cutting edge security and its exterior will be blast proof. When finished, combined with the City West station, it will be home to about 4000 officers.