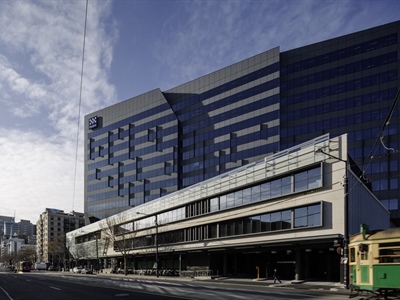 Melbourne's Docklands precinct will be home to a new $220 million police complex through a joint venture between super fund developer Cbus Property and Australia Post.
The partnership has been selected as the preferred developer for the police complex via its offering of the old mail centre site on the corner of La Trobe and Spencer streets where Docklands meets the CBD.
The city's main remand lock-up, the Melbourne Assessment Prison, is directly opposite the 11,750 square metre Australia Post site.
Three proposals were short-listed late last year for the police requirement, including the mail centre site.
The other two candidates were a joint venture between Grocon and listed developer Mirvac, on a site next to Southern Cross Station, and the former Melbourne convention centre on the corner of Flinders and Spencer streets, only metres from the present police headquarters.
That third site is held by Eureka Funds Management and Clement Lee's Asset1.
The tussle for the police pitch came down to a contest between the Cbus-Australia Post tie-up and the Eureka-Asset1 team, according to market sources.
Cbus Property has snared a number of big wins in Melbourne in recent months.
Already under construction at another Docklands site it controls is a $300 million, 62,000 square metre campus-style project for the National Australia Bank in the Bourke Street extension.
The super fund developer has capitalised on that project, taking over an adjoining site previously held by fellow industry developer ISPT, and then winning the mandate from Medibank Private.
The insurer will take 30,000sq m in the second tower, producing a $200 million-plus asset for Cbus members.
And further afield, at the so-called "Paris end" of Collins Street, Cbus and Charter Hall are developing BHP Billiton's new $280 million headquarters.
The Australia Post site in Spencer Street had been earmarked to host a new CBD Bunnings store before it was put on the market last year.
An overseas buyer was found for the site – with a $40 million price tag – before Australia Post again reworked its property strategy.
The new 27,000sq m City West police complex will consolidate space from three locations, including the St Kilda Road premises.
Also being sought as a second police requirement is about 45,000sq m to house the staff and functions now at the Victoria Police Centre in Flinders Street.