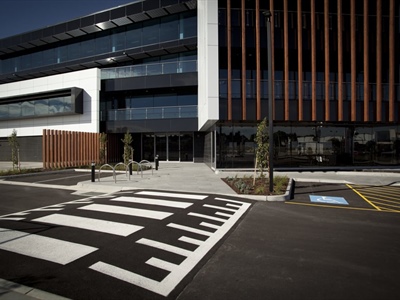 A DANDENONG manufacturing icon is being demolished to make way for a $500 million business park.
The General Motors Holden site at the corner of Princes Highway and South Gippsland Freeway is being developed by super-fund CBUS Property.
Dubbed "Estate 1", the development will include an outlet of Woolworths-owned hardware store Masters, as well as office, retail and manufacturing spaces.
Construction of the Masters store and three-storey office building will start later in the year, subject to council approval.
The hardware store is set to employ about 130 people.
Greater Dandenong councillor John Kelly said GMH was one of the first manufacturers – along with food company Heinz, International Trucks and Minster Carpets – to move into the city.
"The Dandenong and Doveton areas survived on a lot of those big companies," Cr Kelly said.
"It was these companies that laid the foundations for our reputation as a manufacturing hub. We're very grateful to those big industries."
When it opened in 1956, the GMH plant had the capacity to build 152 bodies and assemble 168 vehicles a day. By 1981 more than four million Holdens had been made at the plant.
In 1986, a joint venture turned it into the sole plant for Toyota Corolla and Holden Nova production. The pact between GMH and Toyota dissolved in 1996 and the plant shut down.
Sales inquiries: Cameron Industrial, 9791 4800.