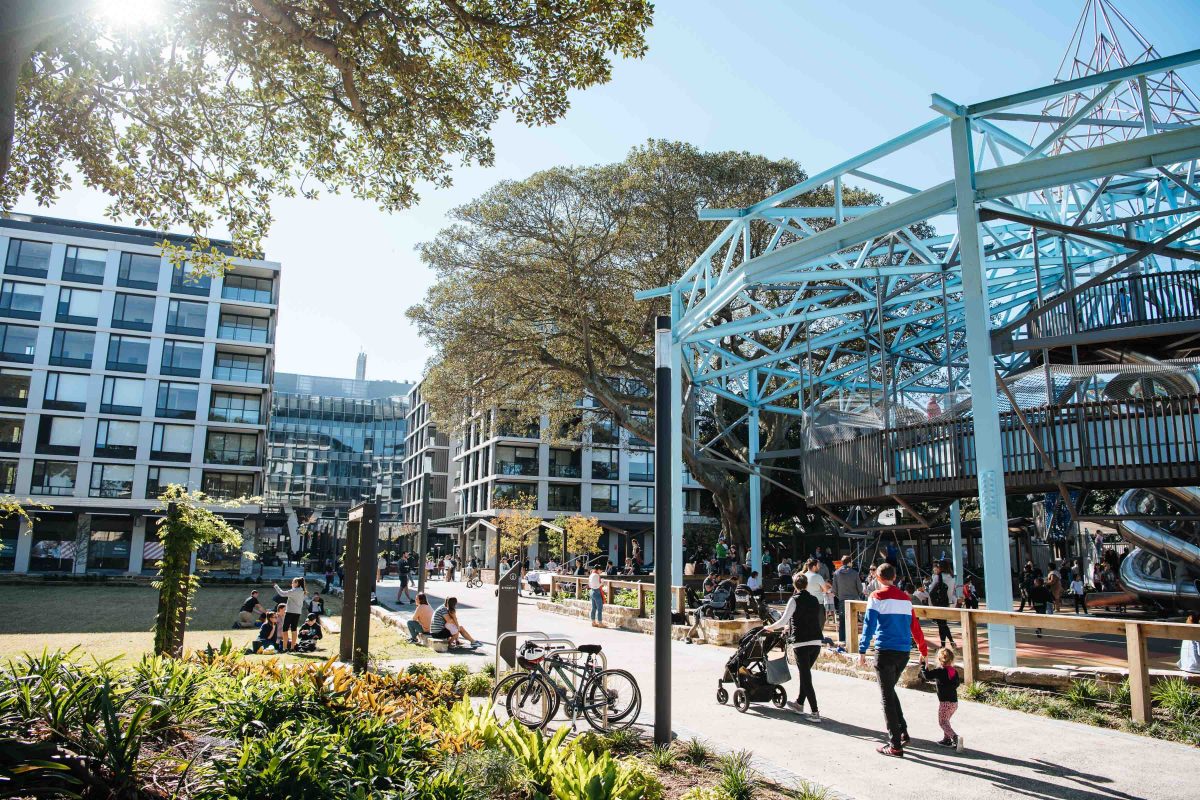 JUNE 2020
A new public park has recently been unveiled at Cbus Property's Newmarket Randwick mixed-use precinct in the heart of Randwick in Sydney's leafy eastern suburbs, promising to become the social heart of the burgeoning community.
Designed by Arcadia Landscape Architecture and encompassing 5,000 square metres of land, Inglis Park will be dedicated to Randwick City Council and embraces as features the existing majestic Moreton Bay fig trees and Norfolk pines.
Inglis Park also incorporates the iconic former Sales Ring that sits beneath the original 130-year-old Moreton Bay fig tree that witnessed the journey of every horse bought and sold at Newmarket.
To celebrate its unique history, the sales ring's original framework has been transformed into a suspended children's climbing and play structure with pavement inlays, plaques, art and images that reflect its racing past.
The play equipment is designed to cater for children of all age groups and abilities. Arcadia Landscape Architecture incorporated sandstone, brick paving and timber from the old stables into the design, public art and interpretive elements to creatively tell the precinct's rich, remarkable story.
Under the expert eye of Arcadia principal, Alex Longley, the park delivers space for everybody, whether they are seeking relaxation, fitness or fun.
"We've created peaceful, secluded places where people can just sit and enjoy the sunshine with family and friends," he said. "We've thought carefully about how to bring the Newmarket history to life so it will never be forgotten, including a timeline of pavement etchings, plaques and images to honour and celebrate the link to horse racing."
Locals and visitors alike have been reveling in the dog-friendly park's extensive lawns, BBQ dining facilities and picnic area, with benches and a pergola that link seamlessly with Sydney's newest food and lifestyle destination, Newmarket Dining, an exciting piazza with a curated dining precinct.
Newmarket Dining is already bringing the precinct and greater Randwick community together with its indoor and outdoor dining amenities strung with fairy lights and framed by urban jungle gardens.
The first five retailers, including Baccomatto Osteria, Cali Press, Café McKenzie, RaRa Ramen and Barber Signature, have proven popular among Randwick locals and Newmarket residents, with three more retailers set to open their doors in the coming months.
Newmarket Randwick's masterplan was designed by national architectural firm Bates Smart, who also designed the first stage of apartments, Newmarket Residences, which incorporates Newmarket Dining.