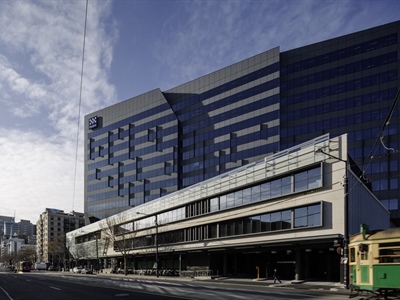 Victoria's biggest police station has opened in the CBD.
The station sits within a 12-storey complex that will also house another 1000 staff in coming weeks. It opened at 3pm on Tuesday. The response zone for the new station will cover the Docklands and the western end of the CBD, including Queen Victorian Market.
Premier Daniel Andrews said the city west station was the product of a $68 million investment. Assistant Commissioner North West Metro Stephen Leane said the building was equipped with visible security features, including bollards and was also elevated.
"You can see it's impossible to drive a car up onto the level we're standing on," he told reporters from the station's entrance. The station also contains police cells.
On Tuesday morning tradesmen were still kneeling on the concrete in the station's entrance, teasing tape from the chequered inlay.
Staff from the Crime and Intelligence commands, North West Metropolitan Headquarters and Forensic Services will move to the new complex from their bases at St Kilda Road and Flinders Street.
Police Minister Wade Noonan said the new police station was years in the making. The station will also house Victoria's biggest Crime Investigation Unit and other teams including the Divisional Intelligence Unit, the Sexual Offences and Child Investigation Team and the Bicycle Patrol Unit.
Work began on the complex in 2012 and the rest of the complex is expected to be finished by July. The station had been based at the Victoria Police Centre in Flinders Street since 1995.
Meanwhile, on Tuesday Mr Noonan told Parliament's Public Accounts and Estimates Committee that custody officers promised in the state budget would go to 22 stations where people can be held for up to 14 days.
The 2015-16 budget committed $148.6 million to recruit and accommodate 400 custody officers to guard prisoners at stations across Victoria.
Mr Noonan said a working group had been established within Victoria Police to support the preparation of training for the custody officers.
He said the police academy was well placed to deliver the training. The government says the custody officers will allow police officers to return to "the front line".
The committee also heard that police would conduct 100,000 roadside alcohol and drug tests in 2015-16.
Acting Chief Commissioner Tim Cartwright told the committee that the analogue police radio system had been the greatest threat to the safety of officers in regional Victoria. The old system will be replaced with digital radios.
The budget also committed funding for a new police station in Mernda in Melbourne's outer north.
Acting Chief Commissioner Cartwright expected the Mernda police station would operate 24 hours a day. The station is due to open in 2017.
Acting Chief Commissioner Cartwright also said a new station in Somerville was unlikely to offer a counter service but a final decision had not yet been made.