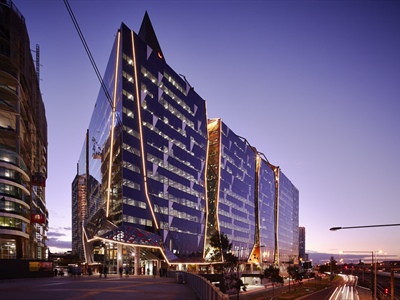 National Australia Bank's new 16-storey office complex in Melbourne's Docklands includes the latest designs intended to cut costs, boost productivity and encourage closer cooperation between employees.
The nation's fourth biggest bank, with a market capitalisation of about $70 billion, will have three offices on three consecutive city blocks in Bourke Street for 14,000 employees, or about 80 per cent of its Melbourne workforce.
By the time 6000 staff start moving into 700 Bourke Street next month it will have halved its number of major buildings from six, since first moving into Docklands 10 years ago.
"We've changed from worrying about how the individual works to how the team works," Monica Klyscz, NAB's head of commercial property, explained about what shaped the building's design.
"This is about bringing people together to share knowledge and collect more information."
The building. which took 26 months to build and was completed six weeks ahead of deadline, was designed by Woods Bagot, built by Brookfield Multiplex and developed, managed and owned by Cbus Property, the property development division of the $22 billion industry fund that also owns the neighbouring new Medibank centre, new BHP office in Collins Street and nearby police headquarters.
It is estimated having 10 work places for every 13 employees has resulted in three fewer floors. The design provides a range of specialised work areas, ranging from informal meeting spaces, collaborative tables and quiet rooms, depending on the task and employees' requirements. It is based upon more than five years of observations, prototypes and work style studies. About 95 per cent of employees, including senior management, will be expected to work flexibly rather than have their own office or desk.
The bank , which was one of the first big companies to move into Docklands, recently signed a lease to remain at its 800 Bourke Street office for another 11 years.
The bank would not disclose what it was paying but average yearly rents in the area start around $600 per square metre.
The 800 Bourke Street will concentrate on support and operations, 700 Bourke Street on customer services and products and 500 Bourke Street on institutional and business banking.
Roger Macmorran, project director, said breaking down physical barriers between banking services and products is intended to encourage a more collaborative approach between traditional banking operations and wealth management. It also reflects the bank's strategic drive to more closely align retail banking and higher margin wealth management services.
The building has seminar rooms and a theatre to capitalise on its potential as a meeting centre midway between the other offices. It is located next door to Southern Cross railway station and Etihad Stadium.