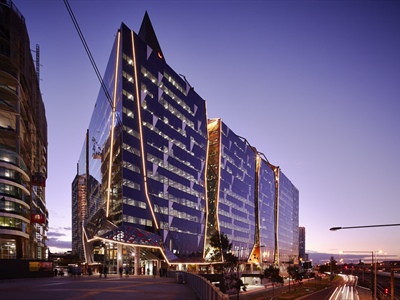 A high-tech facility with a folksy name is National Australia Bank 's new plan for winning hearts, minds and accounts of small businesses seeking a home away from home in the centre of Melbourne.
The Village, a 450-square metre ­complex at 700 Bourke Street, has been designed to provide comfort, shelter and advice for small businesses and ­non-profit organisations and is free for them to use as a temporary base when visiting the capital.
It is more like a business centre at a major airport than a traditional bank branch, with meeting rooms, a lounge, social media services and communal areas.
Roger Macmorran, project director, said: "This provides organisations that do not have any space in Melbourne with a quality area at which to base themselves for the day. It is designed to bring bank staff and the community together."
Mr Macmorran said the third-floor complex, which was to officially open Wednesday, was designed after researching the requirements and requests of small business operators.
It has attracted more than 300 people from about 200 organisations during a three-month trial.
"Rather than creating a space and hoping people would come we found they wanted an area that was easy to access, relaxed and [digitally] connected," he said.
The Village is housed in NAB's new 16-storey office complex in Melbourne's Docklands, home to 6000 staff.
Bank design re-think
The bank, which was one of the first big companies to move in ­Docklands, has re-signed a lease to remain at its 800 Bourke Street office for another 11 years.
The 800 Bourke Street site concentrates on support and operations, 700 Bourke Street on customer services and products and 500 Bourke Street on institutional and business banking.
Mr Macmorran said its impact on brand and reputation and growth will be monitored before any decisions are made about replicating the model in other branches.
Regulatory changes, refocusing branch operations from transactional services to advice and providing ­platforms for next-generation digital services, are driving the biggest rethink of bank designs in a generation.
Bank branches for many of the majors are likely to be about 25 per cent to 35 per cent smaller as back office and safe space is cut, which has major implications for building owners as leases come up for renewal.
A concierge is in attendance to assist visitors but those seeking to use meeting rooms need to book in advance.
Mr Macmorran would not comment on the establishment or running costs but said it was "significantly less" then the rest of the building. The building was designed by Woods Bagot, built by Brookfield ­Multiplex and developed, managed and owned by Cbus Property, the ­property ­development division of the industry fund.