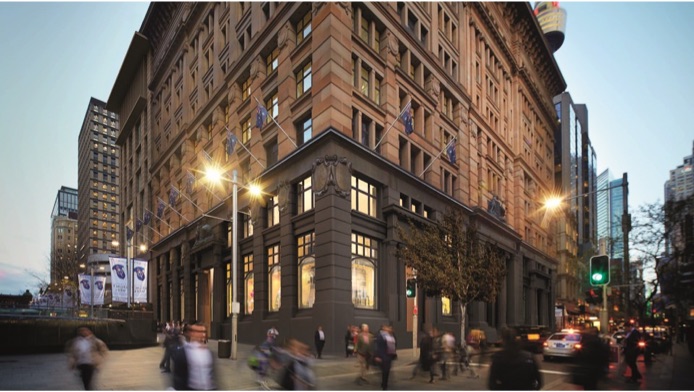 The $430 million restoration of Sydney's 5 Martin Place building took out the top Australian development award in the Property Council of Australia / Rider Levett Bucknall Innovation and Excellence Awards on Friday.
Owners Dexus and Cbus Property received the RLB Australian Development of the Year award for the restoration of the structure which opened in 1916 as headquarters of the Commonwealth Bank of Australia, and which formed the model for the money boxes handed out to a generation of Australian school pupils.
Last year it took out the top NSW architectural awards for urban and heritage architecture.
"This significant heritage restoration project has delivered one of the most inspired and innovative commercial workspaces in Australia," Property Council chief executive Ken Morrison said.
"Five Martin Place's 5-Star Green Star rating demonstrates how older buildings can be upgraded to meet new sustainability standards. And by breathing new life into the streetscape below, and investing in public art, Dexus and Cbus Property have enhanced one of Australia's most important gathering places."

Redevelopment of the building was just one of a $1 billion-plus project by a number of landlords in Martin Place – Sydney's historical commercial centre – to breathe new life into the historic sandstone strip that fell into disrepair as banks and financial services firms retreated in the wake of the global financial crisis and headed to new sites such as Barangaroo on the CBD's western edge.
While some of the concerted redevelopments have kept financial services providers in Sydney's Wall Street – such as the neighbouring 50 Martin Place that houses Macquarie Bank – the moves have enabled the legion of new blue-chip employers in the burgeoning technology industry to take over the prime real estate at the city's commercial heart.
Dropbox has taken space in 5 Martin Place, extended with a 19-level premium-grade office tower above the original building; so has office space provider WeWork.
The base of the building has also attracted new retail tenants including Swedish brand Collection of Style, Canadian luxury retailer Kit and Ace and luxury luggage retailer Rimowa.