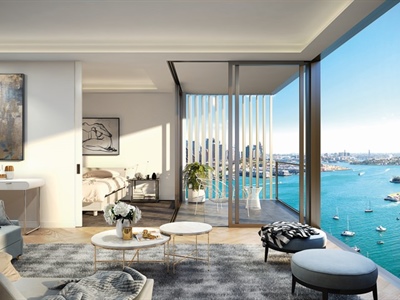 MORE than $185 million worth of property has been sold since the private launch of upcoming Milsons Point residential development '88 Alfred Street' – the latest venture from developer Cbus Property.
A staggering 106 of the 123 available properties have been snapped up since the launch of the development on May 2, which will see the now defunct 16-level Vibe Hotel transformed into a luxury residential tower.
Cbus Property CEO Adrian Pozzo said he was confident that the remaining properties would sell quickly once they're launched to the general public this week, with the two ground floor retail and commercial spaces yet to be marketed.
"I think you're always weary at the start of a launch but we're very, very happy about the results of the day," Mr Pozzo said.
"We're pretty confident that we'll get (the remaining properties) away."
Particularly popular among buyers on the day were the premium properties including the two and three-bedroom units; with one of the three penthouses, priced at above $6 million, also selling.
The strong sales results were aided by the fact that the existing Vibe Hotel allowed potential buyers to experience the harbour views on offer, spanning from Sydney Heads to Lavender Bay, in person, Mr Pozzo said.
"We are used to seeing the lower price range apartments snapped up during this type of sales process, however, due to the location and the limited supply in Milsons Point the reverse is happening," Mr Pozzo said.
Renowned architects Bates Smart have been engaged for the design of the corner block development located directly opposite Milsons Point station, which will include a mix of studios, one, two and three-bedroom apartments.
Prices range from $715,000 for a studio to over $6 million for a penthouse.
Construction is scheduled to commence in the second half of 2015 and be completed in the first quarter of 2017.
The remaining properties can be bought via private appointment only with selling agency Colliers International.