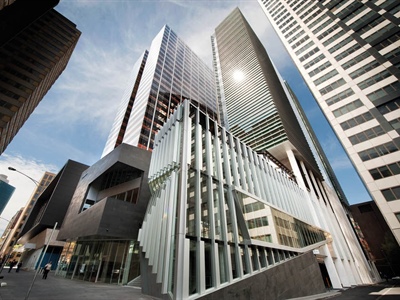 A little reluctantly, Cbus Property chief executive Adrian Pozzo agrees that Melbourne's development market is finally slowing.
"We've had a good run," he said. So far the super fund developer has delivered around $1.75 billion in completed projects into its parent fund's portfolio. Another $1.5 billion of development, including 171 Collins St, is under way.
Around 200,000sq m of space is in that pipeline, including office, residential and industrial projects in Melbourne and Sydney. Among them are some landmarks, such as the new National Australia Bank building in Melbourne's Docklands. Cbus Property is also itching to secure a tenant for the old Commonwealth Bank money box building at 5 Martin Place in Sydney. Mr Pozzo hit back at detractors who accuse the developer of using its super fund muscle to out-bid rivals.
"We don't do a development unless there is profit in it first," he said. It is the developer's ability to deliver that is winning tenants as much as the price it offers, Mr Pozzo said. "We're doing okay. You're only as good as your next one."