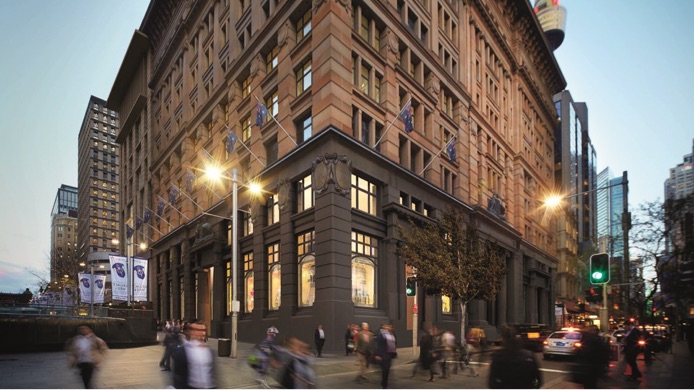 The transformation of Martin Place is well underway with an array of new tenants in both office and retail.
Maquarie Bank and Investa are developing two new office towers, while Dexus and Cbus are adding to the retail mix.
The City of Sydney is also engaged, pledging to create a pedestrian palazzo-style ambience.
Today Martin Place is home to a vast range of technology and high-end retailers, including Rolex, Brooks Brothers, Omega, Tesla, Giorgio Armani, Rimowa, COS, Farage and, most recently, Suitsupply.
Suitsupply has joined the international and local brands at Martin Place, opening its first Australian store at 5 Martin Place, owned by Dexus and Cbus Property.
Knight Frank and Dexus are joint agents for 5 Martin Place.
Head of retail leasing for Dexus, Eddie Giraldo, said, 5 Martin Place is home to retail destinations in an "historical setting".
"The arrival of global European brand Suitsupply into Australia presents a flagship of expertly crafted men's tailoring housed within the historic banking chamber, providing a unique retail experience," Mr Giraldo said.
He added that Martin Place has experienced significant investment since 2014, and the area has undergone a revitalisation in recent years. This, together with the new George Street Light Rail and Sydney Metro, will see the precinct continue to be one of the most prestige commercial and retail locations.
Head of retail leasing, Knight Frank, Alex Alamsyah, said 5 Martin Place is located in a highly prominent position in Sydney's CBD, and "we expect the remaining space will be highly desirable".
"Situated next to Suitsupply's first Australian flagship store and opposite the forthcoming Tiffany & Co. flagship, it offers retailers the opportunity to secure premium space in one of Sydney's busiest pedestrian thoroughfares," Mr Alamsyah said.
Speaking to Fairfax Media, Suit Supply's chief executive Fokke De Jong and vice president Nish De Gruiter, said In its signature aesthetic, the store offers a spacious, vibrant atmosphere where customers can enjoy shopping full collections of seasonal suits, jackets, shoes, outerwear, accessories and attire, as well as a full custom made-to-measure department and an in-house tailor for quick on-demand alterations while you wait.
"In an industry where fast fashion dominates and craftsmanship is quickly disappearing, Suitsupply introduces a better option, one where no attention to detail or quality is ever spared," Mr De Jong said.
"We see having an both an online presence and bricks and mortar stores as necessary to satisfy all our customers. It our vertical integration model."
Mr De Gruiter added that the retailer was looking at potential sites in Melbourne and hopes to make a decision shortly.
"We found from our online sales data that Australian customers were very interested in having a physical outlet,' Mr De Gruiter said.
"We found this landmark site at 5 Martin Place and believe it is a location for us to launch the brand in the country."
The brand is known for its quality, utilising the same Italian production services as luxury brands Armani and Ermenegildo Zegna, however offered at a fraction of the pricing.
The chief executive of Cbus Property, Adrian Pozzo, said the Martin Place precinct is transforming and will continue to be a significant commercial, retail, and civic space for Sydney.
"5 Martin Place plays a major role in activating the ground-plane, offering modern amenity whilst acknowledging the proud heritage of the iconic building," Mr Pozzo said.
A number of significant deals have contributed to the revitalisation of Martin Place, including 39 Martin Place which was acquired by the NSW Government for the new station to be constructed and the completion of Pembroke's 20 Martin Place refurbishment in mid-2016.
GPT Group and Dexus are planning to reposition MLC Centre, and it is also expected that Far East might replace the Westin Hotel with its own luxury Fullerton Hotel of Singapore.
Investa and Gwynvill Group are proposing new office space across 33 levels at 60 Martin Place, and Macquarie Group has submitted an unsolicited proposal to the NSW Government to create new office and retail space at 50 Martin Place and 39 Martin Place where Macquarie Group is anticipated to be the anchor-occupier.