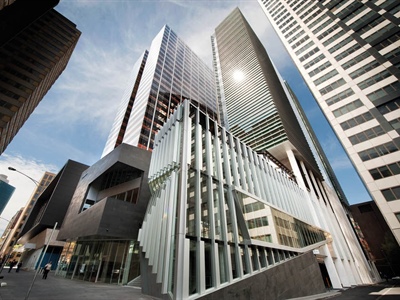 Super fund property developer Cbus Property has posted an outsized 24.3 per cent total return in the past year after completing major office and residential projects in Melbourne and Brisbane.
It is the third year in a row the developer has booked returns above more than 20 per cent.
The bulk of those proceeds come from development revenue, with only around one quarter of the total return derived from portfolio revaluations.
Driving the 2017 result were settlements on apartments in the developer's upmarket residential tower at 35 Spring Street in the Melbourne CBD.
Cbus Property has sold out the 43-storey tower. It topped out last year and its new owners welcomed, along with their settlements, this year.
The $350 million apartment tower is at the ritzy east end of the city around the corner from the "Paris end" of Collins Street, overlooking the parliamentary precinct and Treasury Gardens.
Another big factor in the 2017 result was the completion of an office tower at 1 William Street in Brisbane, where ISPT took a 50 per cent stake.
"We achieved a return of 24.3 per cent for the year, compared to an industry average of 12.05 per cent," the annual report said.
"The return was driven by strong capital growth on the core office portfolio and above-budgeted returns on recently completed developments."
Since the property fund began in 2006, it has generated returns averaging 15.95 per cent per year.
The development platform, led by Adrian Pozzo, holds $2.1 billion, or 5.3 per cent of Cbus's $40 billion in total investment. The broader fund returned 11.85 per cent in the past year.
Developer returns are typically lumpy, as project completions and sell-downs pump one-off returns into the bottom line.
It is unlikely the super fund developer will post another return above 20 per cent in the current year as it digs down into a number of high-profile projects around the country.
Its current portfolio is worth $3.5 billion and its pipeline has $4.5 billion of projects in it, split evenly between commercial and residential property.
Among them is a $1.25 billion twin-tower mixed-use project on Melbourne's Collins Street. Joined by a skybridge at their peak the paired towers have been dubbed 'the Pantscraper'.
In Brisbane, Cbus Property has overcome a legal challenge to a luxury apartment project in the city centre. And in September it launched a $1 billion residential project at the historic Newmarket horse stables in Sydney's Randwick.