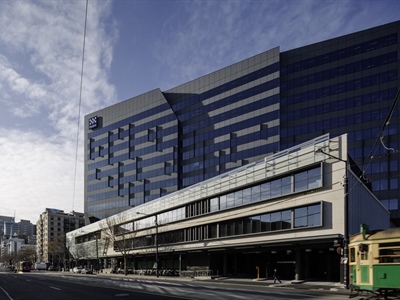 Public service and education sector leasing deals have underpinned a surge in leasing activity in Melbourne's CBD over the past year.
Research from Savills shows leasing deals, covering 426,914 square metres of space, were struck in the 12 months to June 2017, a staggering 54 per cent increase on the previous year.
Most of the deals – 79 per cent – were for prime grade quality space and 39 per cent were for pre-committed space, a factor that drives development and construction.
The government and community sector accounted for 40 per cent of leasing activity, and property and business services took up a further 24 per cent, or 102,324 square metres.
Savills state director of office leasing Mark Rasmussen said the new 65,000 square-metre tower to be built for Victoria Police at 313 Spencer Street made up a fair whack of the 168,219 square metres leased by government agencies.
A half-share in the 42-level tower, a joint venture between Australia Post and super fund developer Cbus Property, has already been sold to Singaporean fund Keppel REIT for $347.8 million.
"Demand from the government and community sector over the past two years has been robust along with the rise in the education sub-sector," Mr Rassmussen said.
The research comes as the Property Council of Australia reveals Melbourne's vacancy rate has fallen to 6.5 per cent and could go lower before new supply comes on the market in 2020.
The city's eastern core and Docklands had the lowest vacancy rate at 2.6 and 2.1 respectively.
Over the next three years little extra supply is expected to be added to the market, leading to further tightening of vacancy rates.
"The Melbourne CBD is in for a wild ride with vacancies tipped to continue the downward trend, the supply pipeline is limited until 2020 and demand continues to be strong," Mr Rasmussen said.
Docklands vacancies also fell, reducing from 4.1 to 3.3 per cent.
So too did the amount of available space in Melbourne's premier leafy boulevard St Kilda Road.
The Property Council places vacancy rates for the area at 11.3 per cent, down from 12.9 per cent although agents maintain the figures fail to account for multiple buildings in the process of being converted to residential apartments.
Both 412 St Kilda Road and 114-124 Albert Road have planning permits for other uses and will be withdrawn from office stock.
"2017 through to 2019 will be characterised by low supply and low vacancy. Strong effective rental growth is forecast over this period before moderating as new supply comes onto the market," JLL head of office leasing Stuart Colquhoun said.
Savills associate director of research Monica Mondkar said Victoria's steady economic growth was the key driver behind the leasing wave. NAB's monthly Business Conditions is now running at 13.8 and a 3.4 per cent growth rate is expected for the state economy – well above the national average of 2.9 per cent.
"The market has definitely strengthened over 2016-17, especially since the federal election last year. We've seen a rebound in business confidence leading to a dramatic rise in pre-commitment activity," Mr Rasmussen said.
Current inquiry levels are running about 263,275 square metres, he said.
A swag of corporates, accountants and lawyers are shifting into new digs or committing to new space. Accenture has taken up 8000 square metres at 161 Collins Street and ANZ has committed to 26,500 at 839 Collins Street in Docklands.
CBRE associate director of research Felice Spark said companies were increasingly taking smaller amounts of space in premium locations but locating back-office operations to the suburbs or Docklands where larger buildings had been built.
Ms Spark's research into rising office rents showed professional services companies such as lawyers, consultants and accountants were most likely to "weather an uptick in costs".
"Obviously the finance industry wants a premium address and in a premium building. Maybe they will take less space to maintain that premium address and take back office functions to the suburbs," she said.