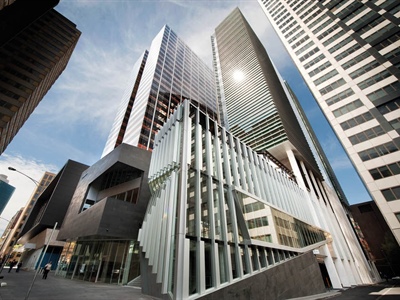 A severe shortfall in tenant demand could wipe many millions od dollars off the value of high-profile office developments under construction around Australia.
Melbourne and Canberra in particular are experiencing a burst of office development at a time when businesses are loath to commit to new or expanded offices. Both markets are expected to record vacancy levels of more than 10 per cent in the coming year.
Sydney is also facing problems. While there are only a few office towers under construction, the city is facing vacancy rates of up to 12 per cent over the next two years, according to analysts. In June, 9.3 per cent of Sydney's offices were empty.
Projects facing the prospect of "leasing risk" and valuation erosion are being developed by a mix of some of Australian's most successful private developers and ASX-listed companies, including Australand, Lend Lease, Mirvac, Walker Corporation.
A shortfall in tenant precommitments for a new development had a direct relationship to its end value and the internal rate of return for the developer, Quadrant Real Estate Advisors executive vice-president Michael Wood said.
"People offer incentives to get tenants in because if developers don't get the tenants in, it directly impacts on nearly everything that underpins a valuation," Mr Wood said. "It's why I'm particularly concerned about the Sydney and Melbourne office markets."
Melbourne is facing the strongest growing pains with warnings that the office vacancy rate could top 10 per cent over the next year as demand for office space falls behind supply.
In the next six months, 80,481sq m of new Melbourne office space, of which 56 per cent is pre committed, will come on the leasing market, according to Colliers International researcher Amita Mehrotra. "New supply is expected to add 234,000sq m to the market over the next two years, of which 75 per cent is currently precommited," she added.
While many projects under construction in Melbourne have tenant precommitments of more than 90 per cent, some projects coming on over the next few years have swaths of space yet to be let.
Despite snaring blue-chip tenants at the start of the developments, the Wertiger family's $120 million refurbishment at 555 Bourke Street – to be completed this year – and Charter Hall-CBUS's project at 171 Collins Street, which will be ready for tenants from next year, are lagging. Colliers estimated that 70 per cent of space in the Wertiger redevelopment and 40 per cent of space at BHP's new 171 Collins Street building was still to be leased.
Despite a much smaller population, Canberra is also preparing to absorb high levels of new office space with 94.000sq m due to be delivered over the second half of this year. Thirty per cent, or 28,000sq m, is untenanted across a range of projects, according to Knight Frank head of research Matt Whitby.
In Sydney, new office development over the next year was more limited, Mr Whitby said.
Only Mirvac's 8 Chifley Square, which topped out this week and is expected to be finished over the next 12 months, has 42 per cent of the space precommited.
Morgan Stanley analysts yesterday said the 11,000sq m of unleased space at Chifley Square was likely to attract smaller tenants.
JP Morgan analyst Michael Scott said the underlying growth in white-collar employment in the Sydney CBD was expected to be minimal during the net year, eroding demand for office space.
"While the level of supply is relatively low prior to the first Barangaroo tower in 2015, demand needs to increase back to average levels before vacancies materially fall," Mr Scott said.
CLSA head of property research John Kim said he was worried about the market's ability to absorb the office stock under development or planned in Sydney and Melbourne.
"Theoretically speaking, a large vacancy could impact on the value of a project, especially if it that space stays vacant for some time," Mr Kim said.
In Brisbane, Knight Frank director of office leasing Campbell Tait said a lack of development and growth in the natural gas industry would offset any potential uptick in vacancies once the state government's staff cuts came through. In Perth, Savills director of office leasing Graham Postma said employment growth and the inability of developers to get finance without major precommitments would allow the city to avoid the same problem.
MAJOR OFFICE DEVELOPMENTS WITH LEASING SHORTFALLS
Leased Developers
Melbourne
357 Collins Street 70% Australand
Goods Shed South project on Collins Street 80% Walker Corporation
555 Bourke Street refurbishment 30%* Wertiger
850 Collins Street 62%* Lend Lease
Lantern building, 707 Collins Street 0%* Walker Corporation
171 Collins Street 60%* CBUS – Charter Hall
Canberra
4 National Circuit West, Barton 44% ISPT
Sydney
8 Chifley Square 42%* Mirvac Group
1 O'Connell 50%* APPF/ADIA
*preleased