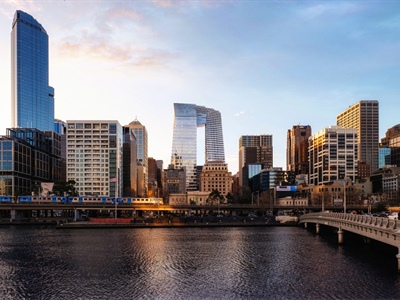 Development heavyweight Cbus Property has finalised a long-awaited deal to sell a half-stake in the office and retail components of the $1.25 billion mixed-use luxury Collins Arch precinct in Melbourne to superannuation fund-backed ISPT.
The value of the entire commercial and retail complex at 447 Collins Street topped $600 million and the sale comes after a ­series of deals in the city agreed to by Mirvac, which sold half-stakes in $1.1bn worth of towers it is developing, and by Australia Post, which disposed of a half-stake in the new $750m Victorian Police headquarters.
International developers swooped on the other sites but local group ISPT exercised rights to buy into Cbus Property's unique development on the corner of Collins and William Streets in Melbourne's central business district.
The Collins Arch precinct is chief among a series of premium skyscrapers set to transform Melbourne's skyline in coming years with the Cbus Property project introducing a luxury mixed-use ­element that separates it from rival projects.
It will include 49,000sq m of premium-grade office space, 800sq m of ground floor food and beverage retail, a five-star W Hotel that was pre-sold to Japan's Daisho last year and 202 luxury apartments.
ISPT said it had exchanged contracts to buy a 50 per cent interest in the office and retail components of the distinctive "Pantscrapper" on Melbourne's city skyline.
While ISPT exercised rights stemming from its sale of the site to Cbus Property for $91m in 2013, Cbus is committed to keeping the other half-interest and will also develop the hotel and residential components of Collins Arch.
The project, due in late 2019, has law firms King & Wood Mallesons, HWL Ebsworth Lawyers and Gadens pre-committed to the office tower. They account for about 65 per cent of the office space and the developer will also seek out new precommitments, although it will benefit from rising rents as the project is completed.
"We are very proud to be jointly developing the commercial and retail elements of a striking new icon on the Melbourne landscape," ISPT general manager, commercial services, Michelle McNally, said.
Ms McNally said 447 Collins Street had world-class facilities and unique green space and would set a new benchmark for workplace experience.
Cbus Property chief executive Adrian Pozzo said: "We are very pleased that ISPT has agreed to purchase 50 per cent of the commercial and retail components of Collins Arch."
He noted the pair had a close relationship. "Following the successful completion of 1 William Street, Brisbane, again in partnership with ISPT, we believe Collins Arch will be one of the most iconic mixed-use precincts in Australia," he said.
The project was designed by local architects Woods Bagot and New York-based SHOP Architects, and has drawn global attention for its bold structure.
Cbus Property is also working on mixed-use projects in other cities. It teamed up with the listed Scentre Group last year to buy the historic David Jones Market Street building in Sydney's CBD for $360m and the pair are ­working to overhaul it into a prem­ium retail, office and apartment complex.
Mr Pozzo said major cities were moving towards mixed-use projects because as more people were living in town, developers were meeting that market.