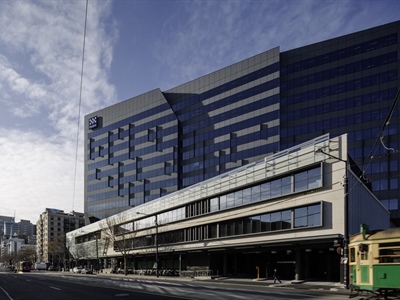 Global funds giant Invesco is the leading bidder to take a half stake in the new police super complex Cbus Property is developing in Melbourne's Docklands precinct in a deal worth about $120 million.
The group emerged from a field of about nine contenders, mainly comprised of local and international pension funds, who were drawn to the 20 year lease pre-commitment by Victoria Police.
The interest is expected to change hands at a price reflecting a yield of between 6.5 per cent and 6.75 per cent on the 12-storey building, that is getting under way.
The City West police complex is being built at 313 Spencer Street at the site of the 11,750 square metre former Australia Post Mail Centre site on the corner with La Trobe St. Cbus Property controls its portion of the site outright, with Australia Post retaining the other section.
Cbus Property put the half stake in the police building on the block last year. At the time it indicated the deal would be structured as a simple investment on completion, rather than the more complex "fund-through" arrangement favoured by some private developers.
Interest in the complex came from major players including CPP Investment Board, the Future Fund, and Eureka Funds Management.
Cbus Property is thought to be seeking to set up a longer-term relationship with the party that eventually acquires the police complex.
With the end value of the 30,000 square metre building likely to be around $240 million, it could form the cornerstone or a deeper relationship with a foreign group.
Invesco, which last year set up an office in Sydney led by former Investa funds manager Ian Schilling, has been targeting major office assets and has also flagged an interest in funding local developers. The group last year made a $200 million-plus play for 231 Elizabeth Street in Sydney's central business district on behalf of Korea Life. But that complex is instead likely to go to Singapore's CIMB TrustCapital Advisors.
CBUS Property has indicated it will consider partnering on more developments it is undertaking. It has other major projects in Docklands, including a $350 million project at 700 Bourke Street for National Australia Bank and a $400 million tower next door at 720 Bourke Street.
It has also expanded interstate, last month winning the right to build an office tower – on state-owned land at 1 William Street – as the first stage of Brisbane's $1 billion waterfront development. Ownership of the planned $653 million tower is ultimately expected to be shared with a deep pocketed partner.
Sales agent Colliers International declined to comment on the Melbourne deal.
Key Points
Cbus Property is developing a $240 million new police complex in Melbourne's Docklands.
A 50 per cent stake is on the market.
Global giant Invesco is the leading bidder.