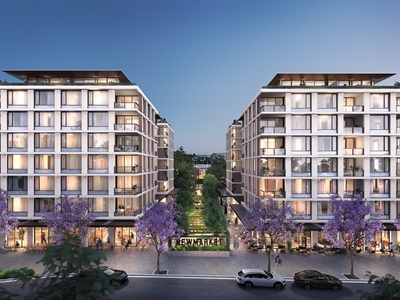 FROM premier thoroughbreds to premier three bedroom apartments — the historic Newmarket stables at Randwick are about to undergo a remarkable transformation.
Cbus Property is gearing up to release stage one of its five-hectare, 642-residence precinct on October 14, after purchasing the site from the Inglis family for a reported $250 million in 2015.
Known as Newmarket Residences, the first phase includes 128 apartments across two eight-storey buildings, set among a vibrant retail plaza with access to a new 5000 square metre public park.
Prices for one-bedroom apartments start from $780,000, two-bedroom apartments are priced from $1,200,000 and three-bedroom apartments start from $2,200,000.
Employing four architecture firms — Bates Smart, Neeson Murcutt Architects, Smart Design Studio and SJB — Cbus has promised to marry the heritage elements of the site with a modern, urban hub.
Cbus chief executive Adrian Pozzo said the cumulative design will breathe new life into the historic Inglis stable site.
"We know how important this site is to the local community and thoroughbred racing fraternity so we were determined to design something special that is worthy of a site with such a strong history," Mr Pozzo said.
Bates Smart studio director Matthew Allen said its firm designed stage one to be open, generous and elegant.
"The facade concept is an expressed frame with open corners that uses a mix of sandstone toned precast concrete and dark bronze metalwork in direct tribute to Newmarket House which will remain a part of this unique precinct," he said.
"The interiors reflect timeless design inspired by an equestrian style in a nod to the site's past.
"Our colour scheme establishes a calm neutral palette in natural textures such as timber, leather and stone."
Arcadia Landscape Architecture will follow suit, cultivating the open space using natural resources sourced from the current site, including wood and steel from the horse stables.
The iconic Morton Bay fig tree that has sheltered the sale yards for more than a century will be central to the design.
Cbus property expects to have the Newmarket Residences completed by 2020.
MISSION ACCOMPLISHED AS HISTORY RECYCLED
AS A boy, Alex Longley would go down to the Inglis Newmarket Stables to admire the horses being paraded around the famous sales ring.
His favourite days spent there were with his grandmother, who was the daughter of famous horse trainer Daniel Lewis.
When the landscape architect heard the site, which dates back to 1918, was to be redeveloped, he knew he had to be the one to shape its open spaces.
With his partner at Arcadia Landscape Architecture, Mike Barnett, Mr Longley set out to restore and maintain much of the manicured walled landscape on-site, while rescuing materials from soon-to-be demolished stabling yards.
"My approach came from a very strong desire to connect and to maintain the character of Newmarket itself," Mr Longley said.
"We're salvaging and repurposing the hardwood timber the stables were constructed from to construct a timber deck around the historic fig tree.
"They've been in the stables chewed and rubbed by horses so they're beautifully polished with really great marks in them."
Elsewhere, the steel hooks in the back of each horse stall will be salvaged for use along the retail strip so visitors can tie up their dogs.
"We're looking at every nut and bolt so we re-use it in any possible way.
But Mr Longley's most important goal was to save the sales ring from complete demolition.
"I think that the repurposing of the sales ring has been the biggest, most ambitious outcome," Mr Longley said.
"To have lost that structure entirely would have been, I think, a massive failure on the landscape architects."
Materials from the ring will be used to create an 8.5m suspended climbing play structure for children.