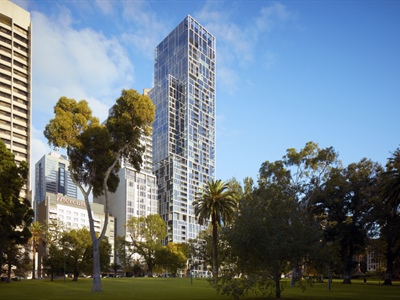 Luxury apartments add hotel-style features to lure buyers.
A virtual golf studio in the ultra high-end Prima Pearl apartment tower, in Melbourne's Southbank, allows residents to play through some of the world's top golf courses without having to step outside.
Across the river at 35 Spring Street, apartment residents who want to throw a dinner party can book the grand dining room and kitchen on the ninth floor.
Apartments offering all the features of a premium hotel with the creature comforts of home are raising the bar in the highly ­competitive multi-million-dollar unit market.
Private clubs, bars, temperature-controlled wine storage, cinemas and thoughtfully laid out floorplans are being added to luxury apartment projects to attract prestige buyers.
Colliers International managing director of residential Peter Chittenden said high-end finishes were "fairly attainable" but the apartment design was a critical ­element in the luxury sector.
"It's really the spatial treatments of the apartments that are the distinguishing features," he said. "I think we have to be in the top two or three design-conscious apartment developers in the world, Sydney in there with New York, London."
Mr Chittenden said two separate living areas showed "a high level of luxury", as did a butlers' pantry with its own entrance and a secondary door that does not affect the main entry. He said private elevators with direct access were important for privacy and security for prestige buyers.
A "proper walk-in storage" for wine and soaring ceiling heights of more than 3m create functionality in high-end buildings, he said.
In Melbourne, Michael and Emma Ashcroft and their dog Harry have just moved in to a two-bedroom, two-bathroom apartment in the $350 million Cbus Property-developed 35 Spring Street, at the eastern edge of the CBD.
The Ashcrofts, both aged 33, liked the convenient location and generous size of their new home, for which they paid just over $1m.
They were keen on the building's dining room and wine cellar and to swim in the lap pool.
The architect, Bates Smart, and the builder, Multiplex, were also a drawcard for Mr Ashcroft, who works in the commercial construction industry, and Ms Ashcroft, who is now studying ­architecture after a prior career in banking recruitment.
35 Spring Street offers a 24-hour concierge service, a convenient way of collecting deliveries given the couple's busy lifestyle.
"As soon as you walk in the building, there's a friendly face greeting you, and they know your name," Ms Ashcroft told The Australian.
"It kind of feels like you're in a hotel sometimes, but a bit more personal. It was designed with the intention of owner occupiers.
"I've been amazed after living in apartment buildings for the last 10 years at how friendly (everyone is)."